Richmonder Bobby Dandridge was the final puzzle piece to the Bucks' 1971 title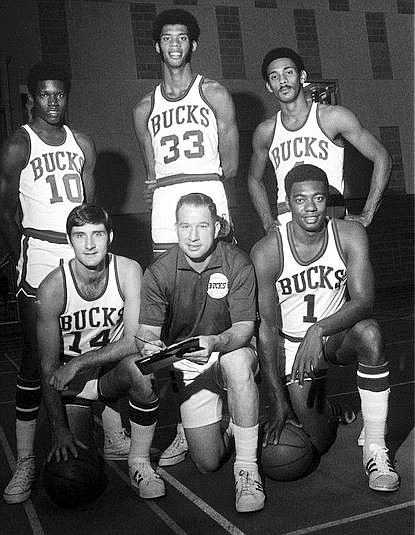 If and when NBA play resumes, the Milwaukee Bucks will try and scratch a nearly half-century itch.
The franchise's first and only NBA title was in 1971 with a cast featuring two all-time greats, Oscar Robertson and Kareem Abdul-Jabbar, plus a lesser known but extraordinarily talented Richmonder.
Bobby Dandridge drew third billing in 1971 on one of most dominant postseason teams in NBA annals.
"In Milwaukee, I learned how to be an effective third option," Dandridge said in a YouTube interview prior to his No. 10 jersey being retired in 2015.
"We had Big O and Kareem ... and when Johnny Mack (guard Jon McGlocklin) got hot, there weren't any plays drawn up for the small forward."
Still, while surrounded by legends, the 6-foot-6 former Maggie L. Walker High School and Norfolk State University standout averaged 18.4 points during the regular season and 19.2 points during the playoffs.
Known as "Bismarck" for his big sneakers and "Greyhound" for his smooth, swift gait, Dandridge was the Bucks' fourth round draft pick — and the 45th pick overall — in 1969.
"I'll always be grateful to the Bucks. They must have seen something in me others didn't," Dandridge said.
Also in 1960, UCLA All-American Lew Alcindor, prior to his name change to Kareem Abdul-Jabbar, was the first overall draft selection.
The 1969-70 season set the tone for 1970- 71. After going 27-55 in the inaugural 1968-69 season, Bucks improved to 56-26 in 1969-70.
Before 1970-71, the Bucks traded for Robertson, arguably the top guard in NBA annals. "The Big O" was 32 at the time, but still had plenty left.
With Alcindor (Jabbar) leading the NBA with a 26.6 points per game average, Robertson added 18.2 points and 8.3 assists per outing.
McGlocklin, a brilliant outside shooter out of Indiana University, added 15.8 points per game, a figure that would have been much higher with today's 3-point arc.
The other starter was forward Greg Smith (11.7 points per game), in his third year out of Western Kentucky University.
Under Coach Larry Costello, Milwaukee went 66-16 during the 1970- 71 regular season, then really hit the gas in the playoffs.
The Bucks eliminated the San Francisco Warriors, four games to one, the Los Angeles Lakers 4-1 and finally the Baltimore Bullets 4-0 to claim the ultimate prize in just the third season of the team's existence.
The 12-2 playoff run ranks with the NBA's best ever. Dandridge was outstanding without stealing the limelight from his more celebrated teammates.
"I learned to be a role player," Dandridge said. "But I was also able to carve my own niche. It was a challenge but it made me a better player."
Coincidentally, after being traded to Washington in 1977, Dandridge had a similar situation in the nation's capital. In helping the Washington Bullets (now the Wizards) to their lone NBA crown in 1978, Dandridge was overshadowed by Hall of Famers-to-be Elvin Hayes and Wes Unseld.
The current Bucks are primed for a long playoff run — assuming there are playoffs. When the NBA season was halted due to the coronavirus, the Bucks had the NBA's best record (53-12), highest scoring average (118.6) and arguably best player (Giannis Antetokounmpo).
Like in 1971, the current team has a local connection. Former Petersburg High School sensation Frank Mason has a dual contract with the Bucks and their G-League affiliate, the Wisconsin Herd. Depending on injuries, Mason could be a factor for the Bucks if play ever resumes.
Here's a little known fact about the Bucks' long ago emergence as an NBA power. Milwaukee and Phoenix finished with the worst records in 1968-69. A flip of the coin would decide who got the first draft pick in 1969.
The Bucks won the toss and, to no one's surprise, selected 7-foot-2 Alcindor (Jabbar), already a national celebrity after fueling UCLA to three straight NCAA crowns.
There was less celebration in round four, when Milwaukee picked a little known forward out of Division II Norfolk State University.
But it was that native Richmonder who fit nicely as the ideal final piece to the puzzle.