VMI appoints Black interim superintendent amid shakeup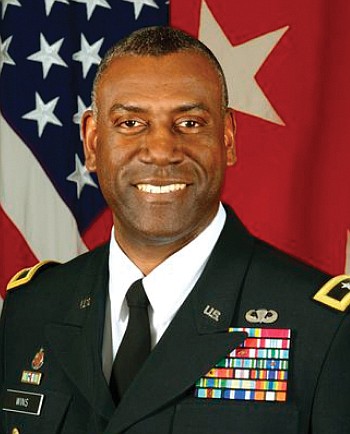 LEXINGTON - The Virginia Military Institute has selected a retired U.S. Army major general to serve as its interim superintendent amid a leadership shakeup that followed a newspaper article describing allegations of persistent racism at the school.
Maj. Gen. Cedric T. Wins will step in to lead the military college until a permanent superintendent is chosen, the school announced late last week. Maj. Gen. Wins, a 1985 VMI graduate who went on to a distinguished 34-year military career, will be the first Black leader to serve as superintendent, a VMI spokesman said. The move comes after VMI's former superintendent, retired Gen. J.H. Binford Peay III, resigned last month under pressure from the governor's office following the publication of a Washington Post article that described incidents such as lynching threats and a white professor reminiscing in class about her father's Ku Klux Klan membership.
Earlier this month, the General Assembly approved adding $1 million to the state budget to pay for an independent investigation into the allegations.
The VMI Board of Visitors has appointed a superintendent search committee and will work with an executive search firm to identify candidates over the next several months. A new, permanent superintendent is expected to be in place during the summer, according to school officials.
In a formal statement, VMI board president John William "Bill" Boland said the board is "pleased" that Maj. Gen. Wins agreed to come on board "during this critical time of transition. ... I am confident that Maj. Gen. Wins' experience and values will provide steady and principled leadership as we continue to move the institute forward."
As a VMI cadet, Maj. Gen. Wins was a standout basketball player for the state-supported school, becoming one of the top five scorers in the school's history. After earning his bachelor's in economics, he was commissioned into the Army as a field artillery officer, according to a biography provided by the school.
He held many leadership and staff assignments during his military career, including in the Headquarters Department of the Army and the Joint Staff at the Pentagon. In his final command, Maj. Gen. Wins was the first Commanding General of the U.S. Army Combat Capabilities Development Command.
He is highly decorated, with a Bronze Star Medal and the Legion of Merit with one Oak Leaf Cluster.
Maj. Gen. Wins also earned two master's degrees, one in national security and strategic studies from the National War College and the other in management from the Florida Institute of Technology.
In a statement, he said he was "excited" to return to VMI.
"Now, more than ever, the lessons and values of VMI are needed in the world, and I am humbled to be a part of making that happen," Maj. Gen. Wins said.
Delegate Jennifer Carroll Foy of Prince William County, one of the early Black female graduates of VMI, said in a statement published in The Washington Post that she was pleased by Maj. Gen. Wins' appointment.
"We are having global conversations about race and equity, and those conversations must be had at VMI," said Delegate Carroll Foy, a Democratic candidate for governor who announced a multipoint plan for change at VMI shortly after the racial controversy arose.
"This isn't just a moment for VMI to rise up to the challenge," she continued. "It's a moment for all our public institutions to do better. VMI is off to a good start after adopting several of the recommendations I laid out: Hire a chief diversity, inclusion and equity officer; implement meaningful diversity training; and recruit a more diverse cadet class and administration."
In late October, the VMI board voted to remove a statue of Confederate Gen. Thomas "Stonewall" Jackson that currently stands in front of the historic barracks on campus.
VMI spokesman William "Bill" Wyatt said the board also voted to take a number of other steps toward addressing issues of diversity, including directing the adoption of a diversity hiring plan and creating a permanent diversity office.
Before he resigned, former superin- tendent Gen. Peay announced the college would change some of its long-standing traditions but would not be removing Confederate statues, including the Jackson statue that, until a few years ago, cadets had to salute.
"Unlike many communities who are grappling with icons of the past, VMI has direct ties to many of the historical figures that are the subject of the current unrest. Stonewall Jackson was a professor at VMI, a West Point graduate who served in combat in the Mexican War, a military genius, a staunch Christian, and yes, a Confederate general," Gen. Peay wrote in July.
Mr. Wyatt said in October that the VMI administration would handle "the orderly movement of the statue." He said it would be put in an "appropriate location, perhaps the Battlefield at New Market." Dozens of VMI cadets who fought in that May 1864 battle were killed or wounded in that battle in Shenandoah County.