Free COVID-19 testing
11/25/2020, 6 p.m.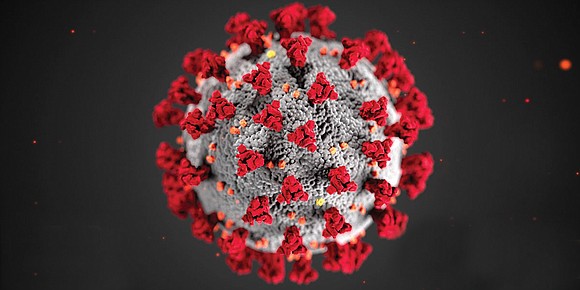 Free community testing for COVID-19 continues.
The Richmond and Henrico County health districts are offering testing at the following locations: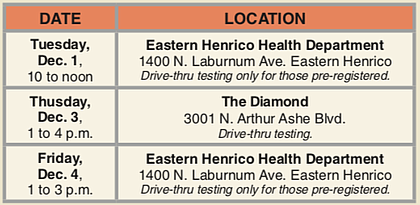 Appointments are encouraged by calling the Richmond and Henrico COVID-19 Hotline at (804) 205-3501 from 8 a.m. to 5 p.m. Monday through Friday.
Testing will be offered while test supplies last.
The Chesterfield County Health Department also is offering free COVID-19 testing at the following location:
Second Baptist Church, 5100 W. Hundred Road, Chester, 2 to 3 p.m. Monday, Nov. 30.
Testing is encouraged for those who have COVID-19 symptoms. The testing is free, and no reservations are necessary.
Details: Chesterfield County Health Department at (804) 318-8207.
The Virginia Department of Health reported on Tuesday a total of 223,582 positive cases of COVID-19 statewide, along with 14,212 hospitalizations and 3,979 deaths.
The number of new coronavirus cases continues to spike in the state, with 3,242 new cases reported Monday, one of the largest daily spikes so far, officials said.
According to Virginia data, African-Americans comprised 23 percent of cases and 26.3 percent of deaths for which ethnic and racial data is available, while Latinos made up 25 percent of the cases and 9.1 percent of deaths.
Locally, as of Tuesday, 6,446 cases and 81 deaths were reported in Richmond; 7,977 cases and 244 deaths were reported in Henrico; and 8,827 cases and 127 deaths were reported in Chesterfield.
Meanwhile, the United States has more than 12.5 million people testing positive for the virus, with more than 3 million new cases in November alone. The number of deaths nationally has reached 258,000, according to data from Johns Hopkins University.