'One and done' players large part of NBA draft
Fred Jeter | 11/25/2020, 6 p.m.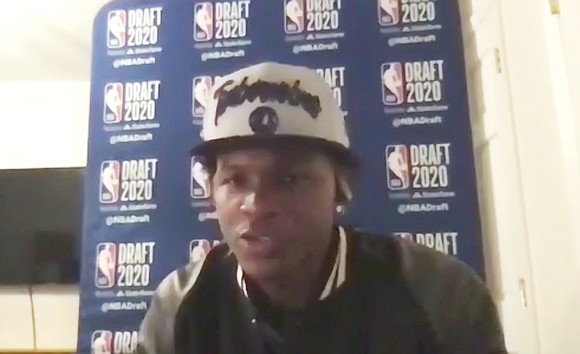 Don't blink.
If you're not watching closely, a basketball fan is apt to miss seeing the very best players competing for their schools.
The term "one and done"—meaning one season of college before going to the NBA—has become the norm rather than the exception for elite talent.
Anthony Edwards, 19, is the latest example.
Edwards played a single season at the University of Georgia en route to being the overall No. 1 pick by the Minnesota Timberwolves in the Nov. 18 draft.
The 6-foot-5 Edwards is the 11th straight athlete to be drafted No. 1 after a single season on a college campus.
As a one-year Bulldog, Edwards averaged 19 points and five rebounds while earning Southeast Conference Rookie of the Year distinction.
It's not just the No. 1 pick that's a "one and done." Of the 30 first round NBA draft picks, 12 were freshmen, followed by nine sophomores, two seniors, one junior and six labeled "international" players.
Of the "internationals," one was Californian LaMelo Ball, who opted to play professionally overseas in what would have been his college freshman season.
It's almost like junior and seniors need not apply anymore to first round draft status.
The "one and done" concept was created in 2005 when NBA Commissioner David Stern ruled that players had to be at least 19 before earning NBA paychecks.
The first draft affected was in 2006, when freshman Tyrus Thomas, a 6-foot-10 post player from Louisiana State University was drafted fourth overall by the Portland Trail Blazers.
Until the "one and done," there was another early entry method termed "prep to pros," meaning high school straight to the NBA.
The No. 1 overall choices coming straight from high school were Kwame Brown in 2001, LeBron James in 2003 and Dwight Howard in 2004.
Another notable "prep to pro" was Kevin Garnett, who was
taken fifth overall in 1995 by Minnesota.
Until the 1990s, almost all the top NBA picks played their
full four years in college, earning national followings. The list includes Bill Russell, Oscar Robertson, Kareem Abdul-Jabbar, Bill Walton and Ralph Sampson.
Under current conditions, athletes of that caliber almost certainly would leave school early for the NBA's riches. Extraordinary high school seniors now have three options – "one and done," leave the United States to play "international"
ball or hook up with the NBA's development G-League. Top-of-the-line athletes just leaving high school now can sign for up to $500,000 in the G-League. Among the athletes choosing that path this year are Californian Jalen Green, native Dominican Jonathan Kuminga and former John Marshall High
School standout Isaiah Todd.
Gazing ahead to 2021, don't expect much change. Green is
considered a leading candidate for the top pick in 2021. Others projected to hear their names called at the top of the 2021 draft include Cade Cunningham of Oklahoma State, Evan Mobley of the University of Southern California and B.J. Boston
of the University of Kentucky.
And you guessed it – they're all freshmen.