Personality: Deborah D. Jackson
Spotlight on treasurer of Sisters Network Central Virginia
10/22/2020, 6 p.m.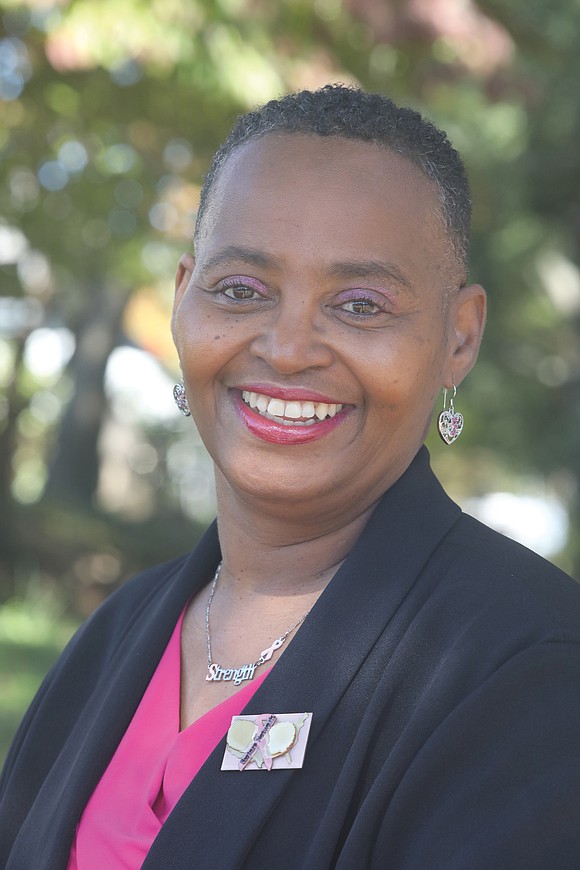 In 2008, Deborah D. Jackson was part of a door-to-door campaign to help educate women in the city's underserved neighborhoods about breast health. That was part of the annual Gift for Life Block Walk conducted by the Sisters Network Central Virginia, a breast cancer survivorship organization of African-American women.
Now, following her own multiple cancer diagnoses and in the midst of Breast Cancer Awareness Month, Ms. Jack- son is doing her part to assist people diagnosed with breast cancer through her volunteer work with SNCVA and service as treasurer.
"I wanted to be a source of hope and inspiration to help others diagnosed with breast cancer," says Ms. Jackson when explaining her decision to join the group in 2011.
During the last 15 years, the group has worked to educate communities in Central Virginia and provide solidarity with and kinship among breast cancer survivors – both women and men.
SNCVA promotes the importance of detecting breast cancer early, the risk factors to be aware of and preventative measures that can be taken. Early detection includes three steps, Ms. Jackson notes: Monthly breast self-exams, an annual clinical exam and a yearly mammogram for women 40 and older, or for younger women who have a family history of breast cancer.
SNCVA holds community forums, seminars and outreach activities in neighborhoods and churches. Its mission is bolstered through mutual support and cooperation with the American Cancer Society.
For Ms. Jackson, her part in SNCVA is to ensure the group's finances are managed, maintained and regularly reported, as well as to make decisions as part of the executive board. She also does her part in terms of outreach, as SNCVA also works to tackle its biggest challenge— increasing the chapter's membership.
Even in the midst of a pandemic, with in-person efforts impacted, SNCVA's members find a way to continue their work. In place of the annual door-to-door Gift for Life Block Walk, SNCVA held a Gift of Giving Virtual Walk in late September.
Those participating were able to walk either through their own neighborhood or within the comfort of their home, with the event raising money to support those in need.
"The turnout was awesome, with over 100 persons and dogs walking to raise funds for the event," says Ms. Jackson, who conducts virtual visits to churches to talk with people about breast cancer.
The growing community interest and involvement is a positive sign for recruitment efforts.
"We don't want anyone to sit back and think that we are not in existence," Ms. Jackson says, "because we still exist and we are still growing and we are still helping people."
Meet an advocate who seeks to educate and raise awareness about breast health and this week's Personality, Deborah D. Jackson:
No. 1 volunteer position: Treasurer, Sisters Network Central Virginia.
Date and place of birth: Jan. 5 in Richmond.
Where I live now: North Richmond.
Occupation: Assistant to deputy director of operations, Richmond Department of Emergency Communications.
Education: Associate degree in information system technology, J. Sargeant Reynolds Community College.
Family: Two sons, Corey and Reynard Sr.; daughter-in-law, Jamia Royal-Jackson; and three granddaughters and three grandsons.
Sisters Network of Central Virginia is: An African-American breast cancer survivorship organization.
When and why Sisters Network was founded: It was founded in 1994 by Karen E. Jackson of Houston. She recognized the lack of "sisterhood" in traditional organizations, the staggering breast cancer mortality rate for African-American women and limited material for women of color. This is the only African-American breast cancer survivorship organization in the United States.
When Sisters Network Central Virginia, or SNCVA, was founded: January 2005 by Zelma Watkins.
Number one goal of SNC-VA: To stop the silence about breast cancer in the underserved communities due to lack of knowledge and medical support. Strategy for achieving goal: Going out into communities to educate women about breast health.
How COVID-19 is affecting SNCVA's mission: COVID-19 has limited our community and faith-based outreach ministry, but we still are able to supply information to individuals that reach out to us and meet with them virtually.
Why SNCVA is important in the Black community: Going out in the community to share breast health information can make a difference in increasing life expectancy through educa- tion and those that are affected with breast cancer.
Profile of membership: SNCVA has three levels of membership: Survivors, associate members and volunteers. Membership requires participation in sponsored activities.
Number of members: 18 — nine survivors, six associates and three volunteers.
Who qualifies for membership: Breast cancer survivors can join at no cost. There is a one-time $25 fee for associate members. There is no cost for volunteer members.
Black men, breast cancer and SNCVA: Men can get breast cancer as well. My father had breast cancer. When we go out in the community, we talk with men as well as women about their breast health. The same breast health information is shared with men and women.
People can get involved with SNCVA: Due to COVID-19, we are meeting virtually. Interested parties may contact SNCVA at (804) 447-4027 and leave a message and we will reach out to them.
Relationship of SNCVA to American Cancer Society: SNCVA supports the mission of the American Cancer Society in eradicating all types of cancer. We work together to connect those in need of services available within each organization. We support each other's outreach activities as well.
SNCVA's No. 1 challenge: To increase chapter membership. How we plan to meet it: To in- crease attention at Pink Ribbon — monthly chapter worship at local churches — and other outreach activities to proactively recruit survivors to become members. The recruitment of new members will give us an opportunity to solicit the support of family and friends who may, in turn, be interested in becoming associate members or volunteers. A viable working membership can best be maintained when a vested interest is held by all.
How to deal with breast cancer diagnosis: Pray, receive that you have the diagnosis and shed your tears because it is a shock when you first hear of the diagnosis. Be open and communicate your concerns to your family, doctors and other involved in your medical treatment. Make sure that you think about your options, research and then make your decision. Make sure that God is included in all you do and involve yourself with positive people on your support team. Faith is a major source when going through the treatment process.
Importance of family support: All positive support and faith are key to healing. Your circle should include people who will keep you encouraged, be willing to transport you and be your source of your strength during the trying times.
Importance of emotional wellness: Pray. Ask God for wisdom during this time. Journal your thoughts, feelings and changes in your body. Find a friend or family member you can talk to and, if able, go out and enjoy nature.
How I start the day: My day starts with prayer, daily scripture reading and song.
A perfect day for me is: I consider every day perfect after being diagnosed with colorectal cancer stage 4, breast cancer and pituitary adenomas. And with God's grace, I have recovered from them all.
A quote that I am inspired by:
"I can do all thing through Christ who strengthen me." — Paul quoted in Philippians 4:13 How my friends describe me: As spiritual, inspirational, confident, willing to go above and beyond to help others, encouraging and fearful and wonderfully made.
Best late-night snack: Pepperidge Farm Goldfish.
Best thing my parents taught me: Listen and observe. Person who influenced me the most: Mrs. Helen Gunn.
Book that influenced me the most: "What I Know for Sure" by Oprah Winfrey.
What I'm reading now: "The Things They Carried" by Tim O'Brien.
Next goal: Work on my autobiography.