Virtual jitters
First day of school has ups and downs for Richmond families with online learning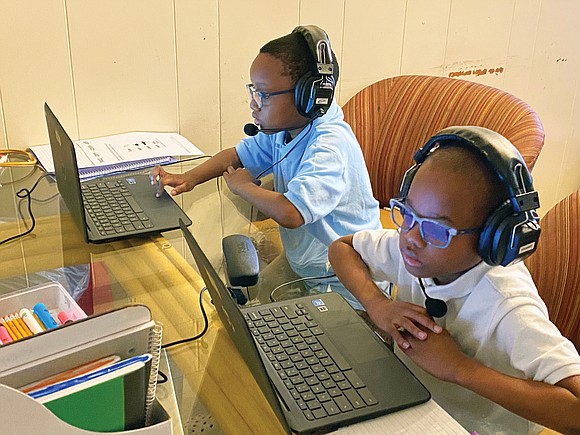 Mr. Kamras and his wife have two sons Ezra, 11, a sixth-grader at Henderson Middle School, and Akiva, 9, at Holton Elementary School.
He said the first week is for parents and students to get acclimated to the new teaching process and to work through any technical issues so everyone becomes comfortable.
"We want everyone to be able to really dive in the second week," Mr. Kamras said. "We have instructed teachers to not give tests or new material the first two weeks so that students can easily adjust to the new instructional format."
While more than 16,000 Chromebooks were issued to students during the summer, more laptops were needed and are now on backlog and expected by the end of September. RPS issued tablets to students in the interim.
Additionally, tech support has been stepped up for teachers and families as the daily log-in volume has increased for full scale scheduling and ensuring access to assignments.
For families needing desks for their children, RPS is distributing 300 desks through the nonprofit organization, JUST C, that is purchasing additional desks to give to students in Central Virginia. The desks can be picked up by families and educational pods at Clark Springs Elementary School in the West End by contacting Chenice Johnson at JUST C at (804) 244-0231.
The RPS administration has said it will have monthly updates for the School Board on the progress of virtual learning, as well as data on COVID-19 and vaccination availability to determine whether in-person learning will restart for the second semester, which begins Feb. 8.
On Tuesday morning, Jessica Stewart sat on a bench in front of Carver Elementary School after picking up food for her four children. Her youngest, Dontae Taylor Jr., is in kindergarten at Carver.
The three older children are at Thomas Jefferson High School— Jamel Stewart, 17, a senior; J'Kayah Stewart, 16, a junior; and J'Kayla Stewart, 15, a freshman. All are computer savvy, enjoy virtual learning and did well following the shutdown in March when the coronavirus forced the closure of schools statewide for in-person learning.
Ms. Stewart is confident the fall semester will go well for her children. She also said she feels it's best for them to learn at home during the pandemic.
"The online reopening is probably better for my children to learn," Ms. Stewart said. "There is a lot of technology in the world. They will be able to use it now. All of my children have computers. This is something students should have had already."