City spurns cold weather shelter for 'non-congregant' housing for homeless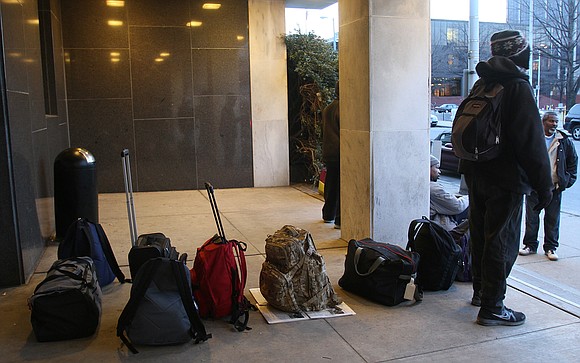 For the first time in at least 19 years, City Hall will not be opening a cold weather shelter on Oct. 1 as a warm place for homeless adults when temperatures fall to 40 degrees and below.
In a major policy shift, Mayor Levar M. Stoney's administration is officially doing away with the cold weather overflow shelter that would operate through April 15 and no longer is seeking one specific location to place people.
The Annie Giles Community Resource Center in Shockoe Valley was used during the 2019-20 winter to shelter 70 to 150 people a night when temperatures plunged.
Instead, city officials are working with Richmond area nonprofits to house people in existing network shelters, or in hotels and motels or a former nursing home now home to the Richmond Urban Ministry Institute.
This is described as a non-congregant approach in which individuals or families have their own room, reducing the threat of contracting COVID-19 from gathering in a single space.
"That is the model we are pursuing," according to Sharon Ebert, Richmond's deputy chief administrative officer for economic and community development.
Some advocates of the homeless, including Rhonda Sneed of Blessing Warriors RVA, fear that the new approach will leave people who are unable to connect to the new system to freeze to death.
The administration has not widely – or loudly—announced there will be no central winter shelter for the homeless, although officials said that homeless outreach teams will spread the word.
Speaking to a City Council committee, Ms. Ebert said this change to a year-round, non-congregant approach currently is supported by more than $5 million in federal funds and was put in place after the pandemic hit in concert with Homeward, the regional homeless coordinating organization, and partners in the Greater Richmond Community of Care.
Ms. Ebert said the adoption of a non-congregant approach to shelter was outlined in the city's strategic plan on homelessness that City Council endorsed in May and already has had an impact.
Those in need of shelter can call a hotline to get assistance and placement, although it currently operates only during daytime hours — a shortcoming Homeward Executive Director Kelly King Horne indicated her organization is seeking to remedy. The hotline receives between 120 and 200 calls a week for shelter assistance, according to Homeward data.
While Ms. Sneed and others disagree, Ms. Ebert said this approach has succeeded in reducing homelessness, with homeless numbers plunging from around 500 men, women and children to around 100.
Ms. Horne said more than 600 people have been assisted since March, including those without homes, those being evicted and those fleeing sexual or domestic violence.
Daily, about 330 people are in existing shelters, with about 110 others in hotels or RUMI, according to Homeward data, with 78 percent moving to other housing within 60 days.
Ms. Ebert noted that many of the homeless who frequented Carytown and the streets of Downtown are now in shelters. Before this approach, "we had throngs of people sleeping outside, but now they are effectively moving through the system. Our interest is in providing better and more appropriate solutions."
Reginald M. Gordon, who leads the city's human services programs, said that Richmond has gained recognition for developing "a robust and effective continuum of care" that is "effectively using CARE dollars and other funding" to move the unsheltered into safe accommodates and is prepared to deal with those needing help during the winter months.
City Councilwoman Stephanie A. Lynch, 5th District, agrees with the new approach, calling it far superior to the "inhumane" congregant shelter that the city previously provided, where children could not be served, pets were not allowed, food was not provided and people were pushed out in the early morning to fend for themselves.
Councilwoman Ellen F. Robertson, 6th District, who battled to end the use of the Annie Giles Center as a cold-weather shelter and pushed for the removal of a tent community that sprouted beside the center, also applauds the new approach.
Amidst COVID-19, she said, "We are seeing an evolution of our system to a more compassionate approach that addresses the needs and challenges individuals are facing and is focused on moving them into a housing situation with wrap-around services to make it sustainable. We are moving in the right direction."
Skeptics include Councilwoman Kim B. Gray, 2nd District, who believes the homeless numbers are higher and is concerned about transportation links and the fact that some have no way to call or receive calls from the hotline.
Ms. Gray also is concerned that the high cost of using hotels and motels — about $500 a week per person — is likely to be "unsustainable" once the federal funds run out.
Ms. Horne said Homeward believes it can sustain the current system through June based on funding projections.