Jones misses filing deadline, canceling primary challenge to Delegate Carr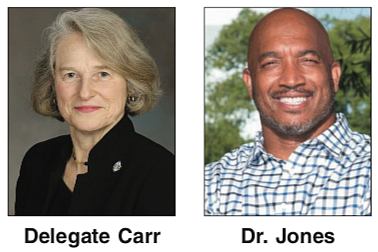 Veteran Richmond Delegate Betsy B. Carr will not face a challenge in the June 8 Democratic primary.
The primary in the 69th House District that Delegate Carr has represented since 2009 is listed as canceled after her announced challenger, 9th District City Councilman Michael J. Jones, did not submit two required items, including statements of qualifications and of economic interest, to the state Department of Elections by the March 25 deadline.
The state Board of Elections heard appeals at its March 31 meeting from Dr. Jones and seven other candidates seeking extensions to file the paperwork. But the board then rejected any extensions in a change from the past two years when they were routinely granted.
Robert Brink, chairman of the state Board of Elections, announced in January and sent notice to both of the state's major political parties that candidate filing extensions no longer would be guaranteed and to notify all candidates. He made it clear he would oppose using the board's discretion to extend deadlines, and the two other members of the board appear to have agreed with him.
Dr. Jones still has until the day of the primary to file to run as an independent in the November general election. On Monday, he said he has not given that consideration as he still is focused on "trying get this extension that has been passed out" in previous years.
He told the Free Press he is hiring an attorney to review his legal options. With early voting in the primary to start Friday, April 23, Dr. Jones has a narrow window to get a court to hold the board's action was arbitrary and to put him on the ballot.
Dr. Jones said that he filed all of the candidate paperwork to the city Voter Registrar's Office on March 5, well before the deadline. He said that Assistant Registrar Donald Gaines told him that he could file all the paperwork with the city office and that the office would make sure the items were properly filed with the state.
Dr. Jones said that did not happen. He said he found out on March 30 when Amy Wentz, chair of the 69th House District Democratic Committee, called him about 2 p.m. to notify him he had missed the filing deadline. He said he went to see Mr. Gaines, whom he said did not provide an adequate explanation of why the documents were put in Dr. Jones' file and not transmitted to the state.
Neither Mr. Gaines nor acting city Voter Registrar Jerry Richardson have responded to a request for comment.
Dr. Jones acknowledged that he and his campaign staff should have double-checked and submitted the items to the state Department of Elections after finding the city office did not.
In other Democratic primary races, challenger Kyle R. Elliott qualified to run against incumbent Dawn M. Adams in the 68th House District that includes portions of the city's West End and South Side, while challenger Richard W. Walker qualified to run against incumbent Jeffrey M. Bourne in the 71st House District that covers much of the city's North Side.
Also, challenger John R. Dantzler II qualified to run against incumbent Lamont Bagby, chair of the Legislative Black Caucus, in the 74th House District that includes much of Eastern and Central Henrico County.