VCU Vaccination Corps has cadre of volunteers rolling up their sleeves and getting to work during pandemic
George Copeland Jr. | 8/5/2021, 6 p.m.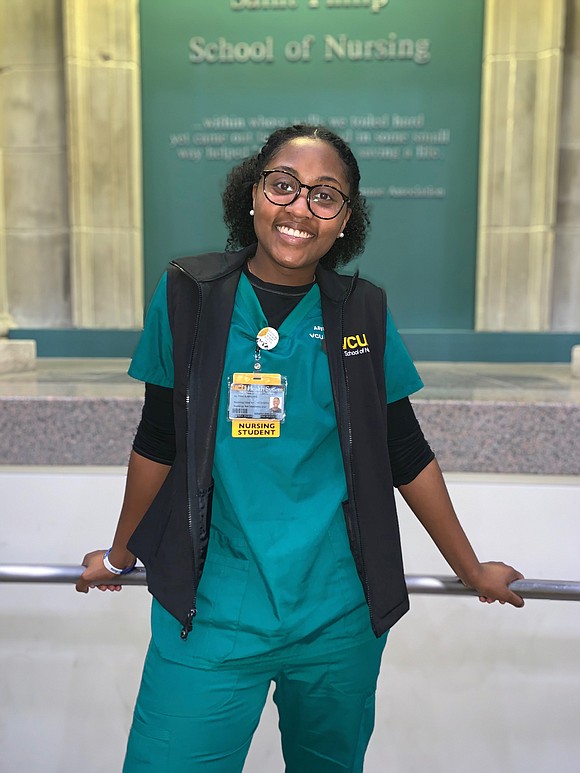 The opportunity to help end the COVID-19 pandemic and to dispel vaccine mistrust and hesitancy among marginalized communities inspired Aliyah Simmons to become a part of the Virginia Commonwealth University Vaccination Corps.
A Virginia Beach native and 22-year-old graduate of VCU's School of Nursing, Ms. Simmons served during her senior year in roles ranging from registering people for inoculations to administering vaccines during several clinics held at the VCU Health Hub at 25th in Church Hill.
For her, the experience of inoculating people against a virus that has claimed so many, and assuaging concerns rooted in historic medical abuses, was a fruitful one.
"I wanted to make sure that people see people who look like them at the vaccine clinic, Ms. Simmons said. It's important, "so that they have that reassurance that there are people like you who have gotten the vaccine and who trust in the vaccine.
"This is kind of like an opportunity for light at the end of the tunnel, and I wanted to be a part of that moment of the pandemic and pushing for a change," she said.
Ms. Simmons is among 909 volunteers who have helped with the VCU Vaccination Corps since it was started in January by Dr. Alan Dow and faculty members across the college, according to information provided by VCU.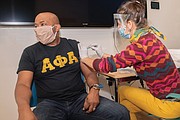 Dr. Dow, an assistant vice president of inter-professional education and collaborative care for VCU's Office of the Senior Vice President for Health Sciences, was first inspired to form the corps around New Year's Eve.
He and others developed the corps as an avenue to recruit, train and deploy volunteers for critical clinical events, with an eye toward aiding vulnerable populations.
"We started realizing that we could be a big part of the vaccination efforts, and that to really get through this, what we needed to do was to try to get as many people vaccinated as possible as quickly as possible," Dr. Dow said.
As of Wednesday, students, faculty and staff from the VCU Vaccine Corps have volunteered at more than 130 community events to administer more than 79,000 vaccinations, according to VCU officials.
Interest in the corps has remained strong months after operations first started. And while the program originated with VCU's School of Nursing, the nature of their work, which includes giving doses, scheduling patients and monitoring them after shots have been given, allows for people from other parts of the university to join in. Students and staff from the VCU School of Social Work and the psychology, kinesiology and health sciences department also have contributed to the effort.
Medical skills are still a critical part of the corps, however, with more than 650 medical students and qualified volunteers trained to serve as part of the VCU Vaccination Corps. The volunteers have helped staff a number of events, from local clinics, mass vaccination events coordinated by the Richmond and Henrico Health Districts and the Richmond Health and Wellness Program, to health districts in other jurisdictions, including Petersburg and Warsaw on the Northern Neck.
An estimated 86,184 doses have been administered by VCU Vaccine Corps volunteers in 17,257 hours of service.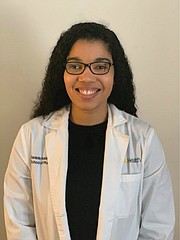 Volunteer Danielle B. Holdren of Bedford, 24, a fourth-year student in VCU's School of Pharmacy, welcomed the opportunity to move the public safely forward from this moment in history.
"If I can play a role in getting our communities vaccinated and stopping the spread, that's bigger than any contribution that I've been able to give thus far," Ms. Holdren said. "It has been such a great experience, just being able to play any type of role in it." The VCU Vaccination Corps has helped shore up the number of people available to help and raised the ability for underserved communities to get vaccine doses, particularly African-American and Latino populations who have been disproportionately impacted by the virus.
"This is the way to really look at promoting health equity, developing that health equity," said Dr. Kimberly Battle, a clinical assistant professor in VCU's Department of Family and Community Health Nursing, who has been a vaccinator and connected students to opportunities as vaccinators in the corps.
Dr. Battle stressed the importance of engaging with community, civic and faith leaders to address concerns and explain the science driving the vaccination effort.
"We look at this from an equity perspective," she said. "And with 400 years of inequity, and acknowledging the inequity that is existing with the impact of morbidity and mortality in our communities of color, we have the science now that can turn this around."
While mass vaccination sites like the one at Richmond Raceway have been shut down, there is still a need for vaccines and reaching people where they are. Dr. Battle is interested in not only continuing the VCU Vaccination Corps for the next year or more, but possibly expanding it into more of a general volunteer group at VCU that can respond to and provide outreach for any possible issue in the city and surrounding counties.
"A lot of these health professionals are (volunteering) because they care," said Ms. Holdren, when asked about the impact the corps has had on vaccinating the public. "They're doing it because they know how important this movement is.
"So I think as long as we continue to have those attitudes driving this whole vaccination effort and getting this pandemic under control, it's really going to go a long way and help us become better."