Mary Wilson, the longest reigning original Supreme, dies at 76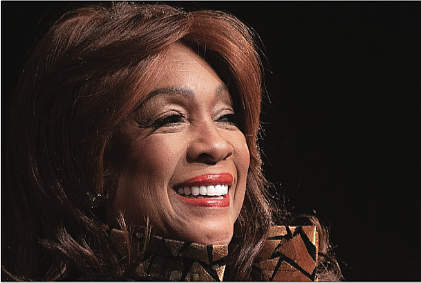 LAS VEGAS - Mary Wilson, an original member of The Supremes who is considered the force that kept the hugely popular trio together through the internal strife that mounted with their success, has died. She was 76.
Ms. Wilson died Monday night, Feb. 8, 2021, at her home in Nevada, said her publicist Jay Schwartz. The cause of her death was not provided.
Ms. Wilson's voice and talent, combined with Diana Ross and Florence Ballard in the 1960s, made up the first successful configuration of The Supremes, Motown's first and most commercially successful female group. Their string of 10 No. 1 hits on the U.S. pop charts began with the June 1964 release of "Where Did Our Love Go?," the million-seller that turned the Motown sound into an international sensation.
Touring at the time, Ms. Wilson said there was a moment when she realized they had a hit song. "I remember that instead of going home on the bus, we flew," she told The Associated Press in 2014. "That was our first plane ride.
We flew home. We had really hit it big." With the group under the eye and push of Barry Gordy Jr., founder of the Motown record label, it would be the first of five consecutive No. 1 hits, with "Baby Love," "Come See About Me," "Stop! In the Name of Love" and "Back in My Arms Again" following in quick succession. The Supremes also recorded the hit songs "You Can't Hurry Love," "Up the Ladder to the Roof" and "Love Child."
Reflecting Mr. Gordy's promotion of Ms. Ross, with whom he had been having a long affair, the group's name was changed to Diana Ross and the Supremes in 1967.
Ms. Ballard left the group that year, under reports of alcoholism that made her unreliable. She was replaced by Cindy Birdsong.
Two years later in 1969, the ambitious Ms. Ross left to launch her own solo career.
Ms. Wilson, the only original member left, kept the group together with Ms. Birdsong and Jean Terrell. Ms. Wilson then got to sing the lead on two lesser late hits "Floy Joy" and "Automatically Sunshine," before the group officially disbanded in 1977.
Ms. Wilson, Ms. Ross and Ms. Ballard, who died in February 1976, were inducted into the Rock and Roll Hall of Fame in 1988.
"I just woke up to this news," Ms. Ross tweeted on Tuesday, offering her condolences to the Wilson family. "I am reminded that each day
is a gift," she added, writing "I have so many wonderful memories of our time together."
In a statement, Mr. Gordy said he was "extremely shocked and saddened to hear of the passing of a major member of the Motown family, Mary Wilson of the Supremes. The Supremes were always known as the 'sweethearts of Motown.' "
Born in Greenville, Miss., Ms. Wilson was an infant when her family moved first to St. Louis and then to Chicago. Because of family instability, Ms. Wilson was sent to Detroit to live with her aunt.
When her mother and siblings later moved to Detroit, Ms. Wilson lived with them in the Brewster Projects, a public housing community. She attended the Baptist church led by the Rev. C.L. Franklin, and met his talented daughters who sang with the choir, Aretha Franklin and her sisters, Erma and Carolyn.
It was in the Brewster Projects where Ms. Wilson met Florence Ballard, a fellow competitor in a local talent show. They were neighbors, along with Diana Ross. They, and a fourth young woman, Betty McGlown, formed a group called The Primettes.
With Barbara Martin replacing Ms. McGlown in 1960, The Primettes made their first record for Lupine Records, a small Detroit label. They signed with Motown in 1961, were renamed The Supremes and had a string of misses. Ms. Martin left the group in early 1962, leaving the trio of Ms. Wilson, Ms. Ross and Ms. Ballard. The writing and producing team of Eddie and Brian Holland and Lamont Dozier, known as Holland-Dozier-Holland, gave them their first big hit in 1964.
"The world has lost one of the brightest stars in our Motown family. Mary Wilson was an icon," Motown Museum Chairwoman and CEO Robin Terry said in a statement.
Ms. Wilson, in a YouTube video posted just two days before her death, said she was excited to celebrate Black History Month, her upcoming birthday on March 6 and teased fans with the announcement that Universal Music had plans to release some of her music.
"We're going to be talking about The Supremes, yeah, 60th anniversary, and I'm going to be talking a lot about that mainly because I've finally decided how to work with Universal and they're going to release new recordings, Mary Wilson recordings," she said. "Yes! At last!
"Hopefully some of that will be out on my birthday," she continued. "We'll see. I've got my fingers crossed here. Yes I do."
Following The Supremes' disbandment, Ms. Wilson released the New York Times best-selling book, "Dreamgirl: My Life as a Supreme," in 1986. She released her second book, "Supreme Faith: Someday We'll Be Together," in 1990. Her last book, "Supreme Glamour," was written with Mark Bego and was released in 2019.
Ms. Wilson also competed on ABC's "Dancing with the Stars" in 2019.
Due to COVID-19 restrictions, a funeral service for Ms. Wilson will be private, according to a statement released. A celebration of her life is expected later in the year.