Hopewell nurse dies helping COVID-19 patients
George Copeland Jr. | 1/7/2021, 6 p.m.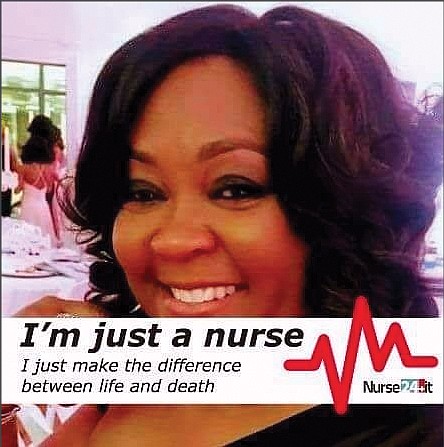 One hour after the new year began, nurse Syvie M. Robertson died at age 51 from COVID-19 complications at Johnston-Willis Hospital in Richmond, leaving behind a loving family and promising future.
"She was a good daughter, a loving mom and a great nurse," her mother, Mona Terry, said Wednesday from her home in Louisville, Ky., during a virtual news conference organized by Richmonder Charles Willis, head of United Communities Against Crime.
"I want Syvie to be remembered as a hard-working nurse, but I also want her to be remembered as a person who followed the science."
Ms. Terry shared details about her only daughter and cautioned against not heeding the dangers of the pandemic.
Originally from Petersburg, Ms. Robertson had been working as a licensed practical nurse at Hopewell Health Care Center for three years when she was assigned in July to a ward treating COVID-19 patients.
According to Ms. Terry, Ms. Robertson was resolved to help as best she could despite her own fears about potential infection and her mother's warnings to quit her job and wait until a vaccine was available.
"Scared does not quite cover how Syvie felt," said Ms. Terry, who was in constant communication with Ms. Robertson. "Each day she went into the hospital, and she knew that she needed to stay protected. She needed to wear a mask every hour on her shift."
Despite being diligent in her efforts to avoid contracting the virus, Ms. Robertson was admitted just after Thanksgiving to Johnston-Willis Hospital. She was unable to walk and struggling to breathe, her mother said.
Two days later, she was placed in the intensive care unit, with a ventilator prolonging her life as her bodily functions and organs ceased one by one. Her heart eventually stopped on Jan. 1.
"The only saving grace for me and the family was that Syvie was totally unconscious when she started declining," Ms. Terry said. "She could not realize the damage that this COVID-19 had done to her body before she passed away."
Ms. Terry said it's not known exactly where Ms. Robertson contracted the fatal virus, but the conditions she was required to work under "were not the best."
Ms. Terry said she has been in discussions with another nurse at the facility about it.
Ms. Robertson's death came one day after Virginia recorded more than 5,000 COVID-19 -related deaths and as national, state and local health officials warn that a wave of new cases is expected within the next two weeks that could heavily impact hospitals already strained by the pandemic.
Already, the sheer volume of cases in recent weeks has left health systems across the United States scrambling and often taking desperate measures to ensure continued operations.
Ms. Terry admits her daughter's death has been hard for her and her family, with the required social distancing making the ordeal worse. But she said she wants to honor her daughter's life and work by stressing the need for people to follow safety guidelines.
Ms. Terry also stressed the safety of the COVID- 19 vaccines, adding she doesn't want others to face the same tragedy that struck her family.
"It's important to me for people to pay attention to what is happening around us," Ms. Terry said. "If we do not listen, there are going to be a lot more people grieving the loss of their loved ones."
Ms. Robertson, a member of New Life Deliverance Tabernacle in South Side, is survived by two daughters, a son and four grandchildren.
"I want people to remember Syvie Mechelle Robertson and her sacrifice doing something she loved to do."