School Board swears in new members, selects new leaders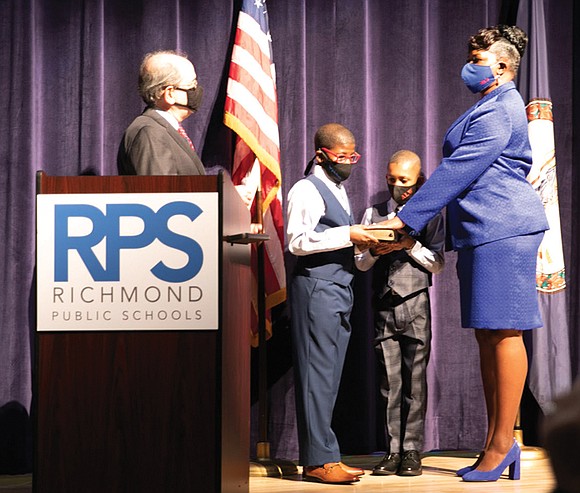 The East End gained another leadership post with Cheryl L. Burke's election as the new Richmond School Board chair.
Ms. Burke, the 7th District representative for Church Hill and Fulton, eked out a 5-4 victory to claim the top post for the board.
The leadership election on Monday followed the re- election of 7th District City Councilwoman Cynthia I. Newbille as the president of the governing body, the first time in recent memory representatives of the district have held both posts.
The new nine-member School Board also has eight women – also a first.
Ms. Burke said that she was honored, delighted and grateful for the opportunity to serve as chair, and noted there is still a lot of work to be done for Richmond's students, a significant number of whom are not participating in virtual school.
"This has been a positive journey," Ms. Burke said. "I will pray for strength to make correct decisions. Be patient. I also want us (the board) to work as a team as we bring together our collective strengths and experiences. If we do that well, the district's deficits will be addressed."
Those casting the protest votes were Kenya Gibson, 3rd District, and three new board members, Mariah L. White, 2nd District; Stephanie M. Rizzi, 5th District; and Shonda Harris-Muhammed, 6th District, who served on the School Board in the past.
Ms. Harris-Muhammed had been the choice of the small group to lead the board, but a fifth vote for her proved elusive.
Ms. Burke gained the support of returning board members Elizabeth "Liz" Doerr, 1st District; Jonathan M. Young, 4th District; Dawn C. Page, 8th District; and new member Nicole Jones, 9th District.
Mr. Young, the lone man on the board, secured the No. 2 position as vice chair without any opposition.
Ahead for the board will be the question of whether to go to a year-round schedule to help make up for the educational deficits resulting from the pandemic's virtual schooling. Superintendent Jason Kamras has indicated his support for year-round schooling.
The board also will need to consider a new contract for Mr. Kamras, who started in February 2018 and whose current contract will expire June 30.
During the meeting's public comment section, the board reviewed letters and online comments from parents and teachers urging that Mr. Kamras be retained.
Mr. Kamras, who has two young sons enrolled in a city public school, told the Free Press, "I hope and pray that I will be able to continue to serve for many more years."
The board also will focus on a new budget and the continuing impact of the pandemic. Improving graduation rates, lowering the drop-out rate and addressing the needs of immigrant children who need extra help learning English are other items on the board's agenda.
Ms. Doerr said she is "excited about the prospect of year-round school as well as implementation of the school systems strategic plan, Dream4RPS, the overhaul of alternative programs for students with discipline problems and the expansion of high school themes for rigorous learning."