Rodman may become household name in soccer world, too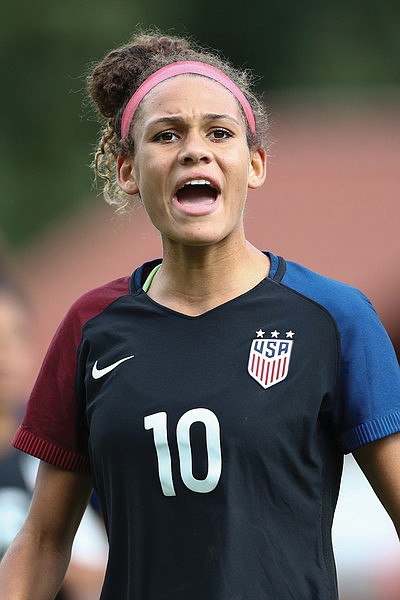 The name Rodman is very familiar to basketball fans. Now don't be surprised if it becomes well known in the soccer world, too.
Trinity Rodman, daughter of NBA legend Dennis Rodman and Michelle Moyer, was the second overall selection in the National Women's Soccer League draft on Jan. 13.
The Washington State University freshman was taken by the Washington Spirit in D.C., just after Racing Louisville FC picked University of North Carolina standout Emily Fox, a Northern Virginia native, in the No. 1 slot.
"I'm excited to be known as Trinity Rodman and not just as Dennis Rodman's daughter," Rodman told The Sporting News.
At 18, she became the youngest player ever drafted by the highest women's soccer league in the United States.
Rodman intended to play as a fresh- man for Washington State but opted out when the Pacific 12 season was postponed from fall to spring because of the pandemic.
She drew attention last March with two goals in the United States' 4-1 victory over Mexico in the finals of the Concacaf U-20 Women's Tournament in the Dominican Republic.
Trinity's brother, 6-foot-6 D.J. Rodman, is a sophomore basketball forward at Washington State.
Dennis Rodman and Michelle Moyer were married in 2000, but have since divorced.
Known as "The Worm," Dennis Rodman helped the Detroit Pistons and the Chicago Bulls to five NBA championships and is a member of the Naismith Memorial Basketball Hall of Fame.