Tightening the reins
Richmond School Board votes 5-4 to issues its own design request for a new George Wythe High School and empanel new evaluation team after 3-hour debate
7/22/2021, 6 p.m.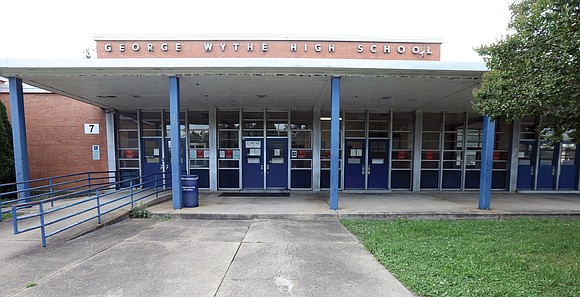 After four months of heated debate, the Richmond School Board on Monday night pushed ahead with its own plan to build a new George Wythe High School and two other schools in hewing to its mantra that "schools build schools."
Capping three hours of debate, a five-member board majority that has embraced RPS control of construction voted to move ahead with getting its own designs for replacing the 60-year-old South Side school and creating its own evaluation panel that it has invited the city to join.
The plan includes two new schools in South Side — a 1,600-seat replacement for George Wythe and a 1,000-seat career and technical education high school in a former tobacco factory — and a new Woodville elementary School in Church Hill that would result in closure of Fairfield Elementary.
The 5-4 vote approved a proposal that board Vice Chair Jonathan Young, 4th District, advanced. Those voting for Mr. Young's plan included Mariah White, 2nd District; Kenya Gibson, 3rd District; Stephanie Rizzi, 5th District; and Dr. Shonda Harris-Muhammed, 6th District.
In doing so, the majority rejected an alternate proposal that two members of the minority, Liz Doer, 1st District, and Nicole
Jones, 9th District, advanced to have RPS send representatives to a panel Mayor Levar M. Stoney's administration has set up. That panel was to evaluate responses to a request for proposals, or RFP, for architects for a replacement George Wythe that the mayor issued last month.
The School Board's action puts Superintendent Jason Kamras on the hook for issuing a RFP for a new George Wythe design by Aug. 23, and for the other two schools shortly thereafter.

Mr. Kamras told the board its directive is unrealistic because the school administration doesn't have the capacity to do the RFP, nor does it expect to have in place a three-person construction management unit to do such work until October.
The board's action again calls into question just how soon a new high school can be completed. while Mr. Young and several other board members have said a new George Wythe can be done by 2024, Mr. Kamras and city officials have said 2027 is more realistic with the school system in charge.
In a statement released after the board's decision, Mayor Levar M. Stoney said:
"School Board members Rizzi, Young, Gibson, White and Harris-Muhammed have again stubbornly refused to hear the demands of the George Wythe community. Tonight's vote doesn't give students and their families any more reason to hope that a new school will be built one day sooner than the 2027 timeline outlined by the Superintendent. Our students and families deserve better."
Mr. Young, though, said the mayor's statement is too pessimistic. He said that RPS is on track to get the school done in three years. He said that under the approved plan, a design team should be on board in less than 90 days. He said the architects should be able to have designs ready for bid next year. If all goes well, he said a general contractor should be hired and starting work within 12 to 15 months.
But Mr. Kamras disagrees. He told the board that RPS is having a difficult time filling the jobs of the new three-person construction team that would be in charge of the process. He said the chaos and public wrangling since mid-April over school construction control has scared off prospects for the three jobs — director of school construction, construction project manager and construction procurement manager.
An additional 12 positions also are needed to fill out RPS' new 15-member procurement group.
"It has been difficult to fill the new construction positions because many qualified candidates have determined that coming to RPS is not the best career move at this time," Mr. Kamras told the board.
The school administration, after consulting with procurement offices in Richmond, Henrico and Chesterfield, drew up a timeline in June that showed an RFP wouldn't be issued until Jan. 1, with the design contract awarded on July 1; the construction contract awarded January 2025 after public engagement and pre-qualification of bidders; and the construction completed in July 2027.
Under the plan adopted Monday night by the School Board, the administration would create a seven-member evaluation panel to recommend the winning design team, with four seats for RPS and three seats for city representatives.
The approved plan shrinks the size of the replacement George Wythe from the original plans for a 2,000-seat school to a capacity of 1,600 students.
Mr. Kamras also bridled at that. He told the board that Wythe currently has an enrollment of 1,300 students and is growing. He said that if the increases are sustained in the years ahead, a school with a capacity for 1,600 students "would be overcrowded on day one."
Mr. Young said after the meeting that Mr. Kamras and school officials are raising objections that do not seem to have merit.
"The city has already issued an RFP for design of a new George Wythe. There is no need to reinvent the wheel. The RPS procurement can get a copy, change some of the wording as needed and issue it," he said. "They could do it next week. This should not be a problem."
"I'm tired of talking about George Wythe," Mr. Kamras told the board, noting other important items on the School Board's agenda are being neglected.
He noted the lengthy debate forced the board to defer discussion of his administration's $65 million plan to boost literacy.
School Board Chair Cheryl Burke, 7th District, also wishes the debate over George Wythe would end.
"It breaks my heart that we debate back and forth about who's in charge and who's not in charge," she told her board colleagues. "In the end, none of us are in charge. In the end, the children are in charge."
Staff writer Jeremy M. Lazarus contributed to this report.