More than gold
Gymnast Simone Biles stuns the world, her teammates and her competitors by withdrawing from Olympic team and individual all-around competition to focus on her mental health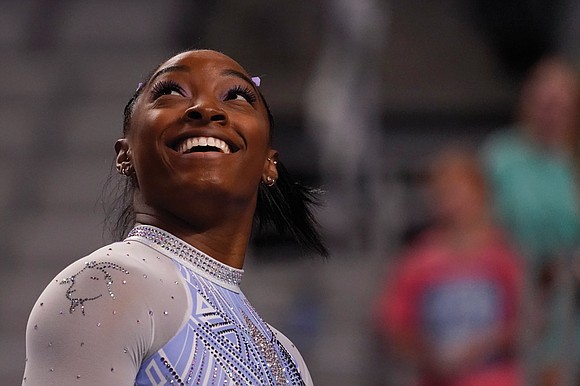 Gymnastics superstar Simone Biles was expected to again helped lead the American team to gold medal glory at the Tokyo Olympics just as she had at the 2016 Olympics in Rio de Janeiro.
Instead, the reigning queen of the sport help draw attention to the stresses that top athletes face Tuesday after she voluntarily withdrew from further competition, citing concerns about her mental fitness to continue.
After the Russian team won the gold and Team USA settled for silver in the team competition, Ms. Biles faced the media to explain why she had pulled out, breaking down in tears as she sought to explain.
She said that the stress got to her.
She withdrew from team competition on Tuesday and from the final individual all-around competition on Wednesday.
"Whenever you get in a high stress situation, you kind of freak out," the 24-year-old Texas resident told reporters. "I have to focus on my mental health and not jeopardize my health and well-being.
"It just sucks when you're fighting with your own head," Ms. Biles added.
She later wrote on her Instagram that she was "feeling the weight of the world on my shoulders" before she withdrew.
She said she was shaking before the Olympic team gymnastics final and realized the "mental's not there."
Ms. Biles, who has won an unprecedented 27 gold medals in international gymnastic competition, is regarded as the greatest ever in a sport that demands top fitness and requires performance of almost impossible maneuvers.
Her action put the issue of athletes' mental health front and center.
Ms. Biles said that tennis star Naomi Osaka, who talked openly about her own mental health struggles after withdrawing from the French Open in late May, inspired her decision.
Ms. Osaka, a California resident who was born in Japan to a Japanese mother and Haitian father, is representing Japan in the Olympics. She was given the high honor to light the Olympic flame during the opening ceremony last week. While she was ranked No. 2 in the tennis competition, she lost in the third round and is out of medal contention.
"We wholeheartedly support Simone's decision and applaud her bravery in prioritizing her well-being," USA Gymnastics said in a statement on Wednesday. "Her courage shows, yet again, why she is a role model for so many."
Initially, Ms. Biles said that the other Team USA members in Tokyo wanted the four-time Olympic gold medalist to continue competing. But she declined.
"I was like: I think the girls need to do the rest of the competition without me. They were like 'I promise you'll be fine; we watched you warm-up.' But I said, 'No, I know I am going to be fine, but I can't risk a medal for the team, and I need to call it."
Ms. Biles said that she is proud of what the team accomplished without her in winning second place.
Despite her emotional response at the press conference, she was adamant her withdrawal was right for her.
"We have to focus on ourselves, because at the end of the day, we're human, too," she said. "So, we have to protect our mind and our body, rather than just go out there and do what the world wants us to do."
Ms. Biles said her decision followed her poor performance on the dismount from the vault.
She sought to do the Amanar maneuver, a back-flipping move that is crowned by 21⁄2 twists in the air. Instead, she said she lost focus in the air and ended up doing only a Yuchenko, or a less difficult dismount involving 11⁄2 twists in the air — prompting gasps from onlookers.
Gymnastic insiders later explained that Ms. Biles was feeling what are called "twisties." The twisties are described as a mysterious phenomenon — suddenly a gymnast is no longer able to do a twisting skill she has done thousands of times in practice.
As one former gymnast described it, "Your brain loses track of where you are in the air. You find out where the ground is when you slam into it."
That is a serious issue for gymnasts who perform on narrow beams and other apparatus that can harm them and often propel themselves into the air for maneuvers that put them in awkward positions before they land.
Ms. Biles has long been known for her "air sense," her ability to stay oriented even when doing twists or backward maneuvers, which is why her inability to do a maneuver with 21⁄2 twists was shocking.
"She's always had incredible air sense, which is what you need in this sport," Ms. Biles' former coach, Aimee Boorman, told Houstonia magazine in 2015. "She doesn't crash very frequently.
Other kids, you'll just see them splat, or get lost in the air. That doesn't happen with her."
But the twisties can hit anyone, even someone as accomplished as Ms. Biles. And when they do, "it's hard to know when they'll go away," another former gymnast said in praising Ms. Biles for putting her mental health first and medals second.
Gymnastics is stressful and risky for everyone, but particularly for those competing at the highest levels. At least in gymnastics, there has been a growing movement for the athletes to recognize when they are physically or mentally unfit to compete and to step back rather than trying to push on at the risk of physical injury.
Ms. Biles said she was not injured, but she said that she was concerned that staying on the floor could lead her to do damage to herself.
"I just don't trust myself as much as I used to," she said. "I'm a little bit more nervous when I do gymnastics. I feel like I'm also not having as much fun. And that's why I took a step back, because I don't want to do something silly out there and get injured. I think we're just a little bit too stressed out.
"So I thought it was best if these girls took over and did the rest of the job – which they absolutely did."
It is unclear if she will compete in next week's event finals.