After bowing to Hampton, VUU to play home opener Saturday against Valdosta State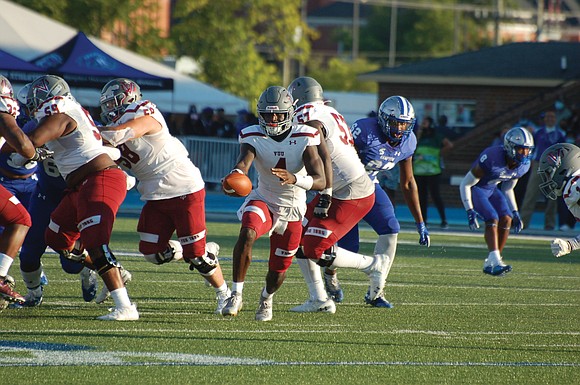 Virginia Union University will play its first game on Willie Lanier Field at Hovey Stadium on Saturday, Sept. 11, and it might help if Lanier himself could play for the Panthers.
Of course that's impossible, but VUU Coach Alvin Parker's squad will need a much improved effort, especially on defense, if the Panthers are to post a victory against invading Valdosta State University of Georgia.
Kickoff is at 5 p.m. on the $1.2 million, state-of-the-art FieldTurf playing surface.
Lanier played home games for Maggie L. Walker High School at Hovey Field in the 1960s and went on to star for Morgan State University and the NFL Kansas City Chiefs. The linebacker extraordinaire was named to both the College and NFL halls of fame.
Against Hampton University, the Panthers were tissue thin on defense—yielding 611 yards—in its opening 42-28 loss Saturday, Sept. 4, before 4,500 fans at Armstrong Stadium.
The Pirates had 32 first downs and 369 yards rushing, good for a per-carry norm of 8 yards.
VUU showed more life on offense, primarily through the air. Quarterback Khalid Morris threw for 271 yards and two touchdowns, with Charles Hall making six catches for 182 yards, including an 83-yard touchdown.
A junior from Trenton, N.J., Hall ranks with the nation's most explosive receivers. In 2019, the "Jersey Jet" led the NCAA Division II with 26 yards per reception, while scoring 10 touchdowns.
VUU got little traction on the ground against Hampton, settling for 92 yards and 3.5 yards per carry. Jada Byers, a 5-foot-7 freshman from New Jersey, was the leader with a mere 25 yards overland.
On a trick play, Jaiden Reavis, normally a wide receiver, threw a 39-yard touchdown pass to Hall.
After trailing 13-0 in the first period, VUU rallied to lead 14-13 at halftime. It was 28-28 early in the fourth quarter before the Pirates seized control with a crunching ground game.
Pirates Darran Butts rans for 143 yards and Elijah Burris for 136, including the go-ahead touchdowns in the fourth period.
VUU upset Hampton to start the 2019 season but wasn't nearly as fortunate this go-round. Both VUU and HU sat out the 2020 season due to COVID-19.
HU, a member of Big South Conference, competes in the NCAA's FCS division, while VUU is a member of the one-peg- lower Division II.
Valdosta State, of the rugged Gulf South Conference, is about as tough a Division II matchup as one could find.
The Blazers won the NCAA title in 2018 with a 14-0 record and went 10-1 in 2019. Valdosta State opted out of the 2020 season because of COVID-19.
While VUU braces for Valdosta's invasion, Hampton will travel to Norfolk on Saturday, Sept. 11, to face Old Dominion University of the NCAA's highest FBS division.