Confederate A.P. Hill statue may be headed to Culpeper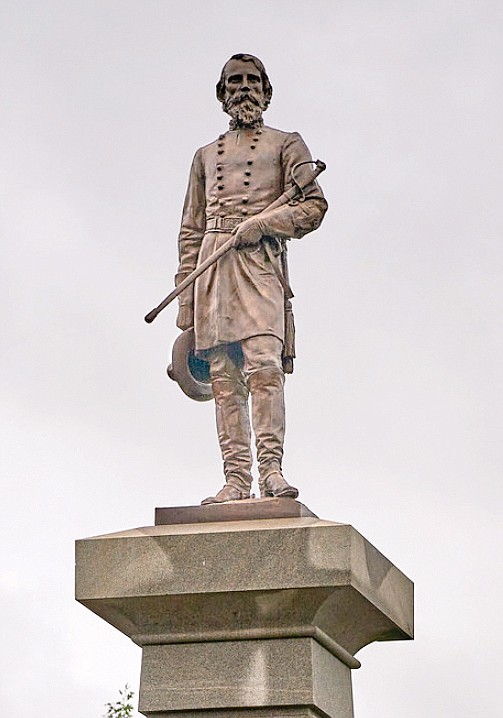 The last city-owned Confederate statue is on its way out of Richmond, though the process will not be swift because a grave is involved, according to Mayor Levar M. Stoney.
That statue is of Gen. A.P. Hill, and it stands in the center of the intersection of Laburnum Avenue and Hermitage Road. It was installed 131 years ago, but could not be swiftly removed because it is essentially a marker for A.P. Hill's grave, adding additional steps to the process.
At a Sept. 9 news conference, Mayor Stoney told reporters there appears to be an agreement between the city and the family for both the casket and statue to be transferred to a Culpeper-area cemetery.
Mayor Stoney indicated that an ordinance seeking approval from City Council will be introduced shortly as the next step. He indicated that a court filing also is likely to gain a required stamp of approval from Richmond Circuit Court.
When all the paperwork and approvals are in place, he said the city would undertake the removal. There is currently no specific timeline, but hopes are high that the removal can be accomplished within three to six months.
Meanwhile, the host of other statues already taken down by the city remain in storage while the Stoney administration and City Council's staff consider offers. No recommendations on their disposal have been presented to City Council 14 months after the statues were removed.
So far, neither the Stoney administration nor Richmond courts appear to have taken action to rid the grounds of the Henry L. Marsh III & Harold M. Marsh Sr. Manchester Courthouse in South Richmond of the large marker to Richmond Confederate units that has stood there for nearly 90 years.
The council also has yet to take any steps to remove the Robert E. Lee name from a major bridge over the James River or begin a deliberate effort to rename most of the streets that still bear Confederate names. The only action so far has been to remove the Jefferson Davis name from a stretch of U.S. 1 in South Side and replace it with Richmond Highway and to rename the former Confederate Avenue in North Side to Laburnum Park Boulevard.