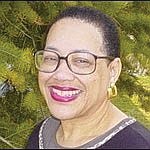 Charlene Crowell
Stories this photo appears in:

For the foreseeable future, "normal" life will be indefinitely suspended due to the global pandemic known as the coronavirus.

Once again, the White House budget proposal slashes funding and programs that many low- and moderate-income consumers rely upon.

Nov. 11 is observed as Veterans Day every year. It's a time to honor the 18.2 million men and women still living who served in at least one war. Though observances vary across the nation, each celebrates the American ideal of service to country.

Columnists
Each year as families beam with pride at seeing a son, daughter or another relative graduate from college, that achievement is nearly always the result of a family's commitment to higher education. And when these institutions are among more than 100 Historically Black Colleges and Universities, that pride is magnified by the history of how our forefathers overcame what once seemed to be insurmountable challenges.

Columnists
For more than a decade, economists, lawmakers and others have heralded the nation's economy, often citing how unemployment has declined as new jobs have been created, or Wall Street trading and major bank profits rise. Some might be led to believe that all is well in America. But as Sportin' Life in the folk opera "Porgy and Bess" sang, "It ain't necessarily so."

Columnists
Anyone who struggles with the rising costs of living knows all too well how hard it is to try stretching dollars when there's more month than money in the household.

Columnists
How, in a span of only 24 hours, could two cities in different states and regions suffer mass shootings — one in El Paso, Texas, a city only a few miles from the nation's southern border, and the other in Dayton, Ohio, a former midwestern manufacturing hub?
Columnists
Nearly 90 years ago, Kelly Miller, a black sociologist and mathematician, said, "The Negro is up against the white man's standard, without the white man's opportunity."
If you're like me, every time you hear a news reporter or anchor talk about how great the nation's economy is, you wonder what world they are living in. Certainly these journalists are not referring to the ongoing struggle to make ends meet that so much of Black America faces. For every daily report of Wall Street trading or rising corporate profits, you're reminded that somebody else is doing just fine financially.