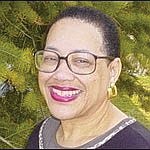 Charlene Crowell
Stories this photo appears in:

Columnists
Nearly 90 years ago, Kelly Miller, a black sociologist and mathematician, said, "The Negro is up against the white man's standard, without the white man's opportunity."

If you're like me, every time you hear a news reporter or anchor talk about how great the nation's economy is, you wonder what world they are living in. Certainly these journalists are not referring to the ongoing struggle to make ends meet that so much of Black America faces. For every daily report of Wall Street trading or rising corporate profits, you're reminded that somebody else is doing just fine financially.