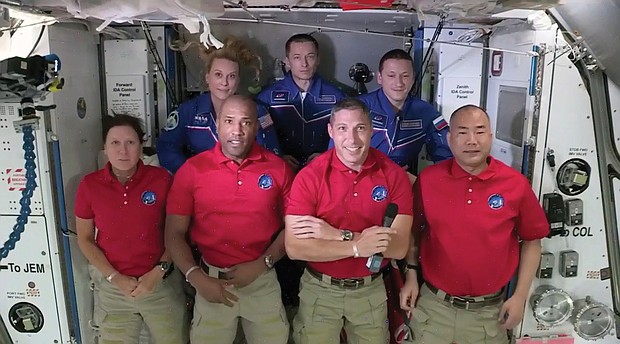 In this frame grab from NASA TV, the SpaceX Dragon crew, from front left to right, Shannon Walker, Victor Glover, Mike Hopkins and Soichi Noguchi stand with the International Space Station crew, Kate Rubins, back row from left, Expedition 64 commander Sergey Ryzhikov and Sergey Kud-Sverchkov during a welcome ceremony, early Tuesday. The Dragon arrived and docked at the ISS late Monday.
Stories this photo appears in:

SpaceX's newly launched capsule with four astronauts arrived Monday at the International Space Station, piloted by Navy Cmdr. Victor Glover, 44.