She's a Little League winner
Chicago squad also a standout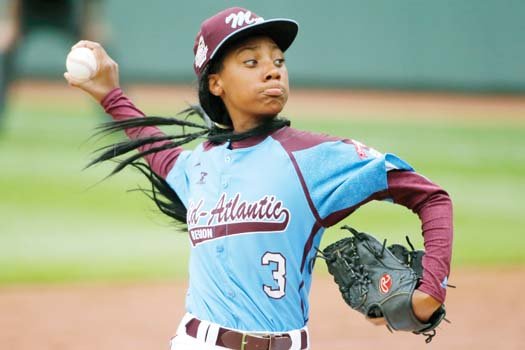 WILLIAMSPORT, Pa.
Mo'Ne Davis is taking the sporting world by storm with her pitching in the Little League World Series.
So is the Jackie Robinson West squad from Chicago that also is winning cheers for its play in this huge youth baseball tournament.
They've Skyped with the Los Angeles Dodgers baseball team and had shout-outs from NBA star Kevin Durant on Twitter.
Now, Mo'Ne and her Philadelphia team and the Chicago squad are on the cusp of reaching the U.S. championship game in the series, the largest baseball competition for young athletes.
The winner would advance to the world title game in Williamsport, Pa.
Both games are to be aired on ABC TV. The U.S. title game is scheduled for a 3:30 p.m. start Saturday, Aug. 23; the world championship is scheduled for broadcast 3 p.m. Sunday.
Mo'Ne is the strikeout phenom of the Philadelphia Taney Dragons.
She initially drew the nation's attention when she became the first girl to ever record a Little League World Series shutout. She did it in a nationally televised 4-0 win over Tennessee last Friday in Willamsport.
She not only got a standing ovation from the crowd, she also became the first Little Leaguer to ever earn a spot on the cover of Sports Illustrated. She's on the front of this week's issue.
Mo'Ne took the mound Wednesday night with her sizzling 70 mph fastball against Las Vegas.
With a win, her team would advance to the U.S. title game. However, Philadelphia lost 8-1.
She is a special athlete. She is only the 18th girl to play in the Little League World Series since girls were officially allowed to participate in 1974.
Mo'Ne, who aspires to one day play basketball for national college power Connecticut, has taken the pressure well.
"She's unflappable," said Alex Rice, manager of the Philadelphia team that represents the Mid-Atlantic Region.
Her team also has done well when she could not pitch. The Philadelphia squad rallied Sunday night to gain a 7-6 win over Pearland, Texas, to set up the showdown with Las Vegas.
Mo'Ne served up a run-scoring single to right field in the victory over Texas, becoming just the sixth girl to collect a hit in Little League World Series history.
Also serving up pride is the all-black Jackie Robinson West squad.
The team is now one game away from the U.S. championship after winning 6-1 over Pearland, Texas, Tuesday night.
Among heroes for the Jackie Robinson team: Pitcher Josh Houston, who allowed only four hits in five innings to secure his second win in this edition of the World Series.
The team is next scheduled to play 6:30 p.m. Thursday, Aug. 21, against Nevada for the U.S. championship.
Chicago Mayor Rahm Emanuel saluted the team after it beat Texas.
"In every neighborhood across Chicago tonight, people are coming together to cheer on this team because of their spirit, their positive attitude and their success on the field," he said proudly.
Chicago is the second team from Little League's Urban Initiative to make it to the series.
"Hopefully (Chicago's success) will foster more growth in urban cities to help grow Little League," said Paul Graziano, a Little League World Series announcer since 1980.
The heroics of Mo'Ne and the Chicago squad shows there is still interest in the game in urban communities, even though African-Americans accounted for only about 8 percent of major league teams' Opening Day rosters this year.
Little League's smaller counterpart in Richmond, the Metropolitan Junior Baseball League, also drew positive attention to young African-American baseball players through its own tournament, the Inner-City Classic and Black World Series. That tournament was held in Richmond earlier this month.