VSU ends season in chilly NCAA match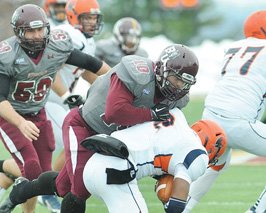 Virginia State University's epic football season ended last Saturday with a 35-14 loss to Bloomsburg State University in northeast Pennsylvania, in arctic-like conditions with temperatures never hitting 30. Banks of snow, from Pennsylvania's Nov. 26 blizzard, surrounded the gridiron.
With so much snow on the landscape, you could almost expect to hear some jolly sort shouting, "Ho, ho, ho," in the wintry distance.
Still, several hundred shivering Trojans fans sporting orange and blue over their long johns braved the elements. 
"Our fans have been great all year long," said VSU coach Latrell Scott, now 19-4 in two VSU campaigns, including 10-3 this season.
"I'm glad we could put a smile on their faces most of the season."
During the game, VSU drew even, 7-7, with its first possession when quarterback Tarian Ayres hit wide receiver Jaivon Smallwood for a 50-yard touchdown, his seventh of the season.
It was a breathtaking moment for VSU fans on a day when you could see your breath whenever you opened your mouth.
After the first quarter, it was all Bloomsburg. The battle-tested Huskies, making their 11th NCAA appearance, now advance to play Concord, W.Va., on Saturday, Dec. 6.
VSU couldn't keep up, despite Smallwood's six receptions for 117 yards and Kavon Bellamy's 67 rushing yards on 15 tries. Ayres was sacked six times.
Bellamy, the converted linebacker, picked up his 13th touchdown of the season in late going. Some of Bellamy's yardage was earned in what seemed like impossible conditions with tacklers grabbing him from all directions.
The first rule of being a quality ball carrier is to keep your legs moving. In Bellamy's determined case, you wonder if his legs don't keep churning even when he's asleep.
What can VSU football fans expect for 2015? Indications are more of what they witnessed this season.
In the 2015 season, most of coach Scott's offensive headliners will return to the team that notched these achievements:
• VSU's first NCAA bid and first NCAA victory.
• The Trojans' first CIAA title since 1996.
• Halting Winston-Salem State University's 31-game CIAA winning streak.
• Ten straight victories.
• Undefeated in the CIAA for the second year in a row.

Ayres, who is second in the CIAA in passing yardage, Smallwood and Bellamy will return in 2015, along with two-time, All-CIAA center Ronnie Ransome.
There are holes to plug in the linebacker corps, but seven of the first 11 tackling leaders will be back, along with everyone from a secondary totaling 18 interceptions.
With all the success, however, comes speculation.
Scott, now 15-0 against CIAA teams, is just 39 years old and undeniably a top-drawer coach. Underlying his disciplined tutoring, VSU committed just 57 penalties in 13 games for 474 yards, and just two penalties for 20 yards at Bloomsburg State.
The former Lee-Davis High and Hampton University receiver was just 34 in 2010 when he was named coach at the University of Richmond. At the time, he was America's youngest Division I head coach.
The much-traveled Scott has served as assistant coach at Division I programs at Virginia Military Institute, Western Carolina, Tennessee, Richmond, Virginia and James Madison universities.
Surely, he has drawn widespread attention for dramatically turning VSU from an also-ran to a champion. He would be an attractive candidate for many upper-level programs.
Currently, there are two FCS Division I coaching openings in Virginia. VMI is searching for a coach after the dismissal of Sparky Woods. Norfolk State University, likewise, has a vacancy following Pete Adrian's retirement.
At NSU, former Virginia Union University assistant and Morgan State University head coach Donald Hill-Eley has been mentioned as a candidate.
Hill-Eley, also a former VUU quarterback, was so-so with a 59-76 record at Morgan State from 2002 to 2013.
The wandering nature of college coaching often leads to longevity questions. It's not like working at a factory and striving for a 40-year lapel pin.
By nature, coaches come and go.
But rarely does one coach make such an immediate impact on a program as coach Scott has in Ettrick.
Trojans fans, understandably, are enjoying the ride, even if it leads them to a pigskin version of the North Pole.