Nation's first elected black governor feted at gala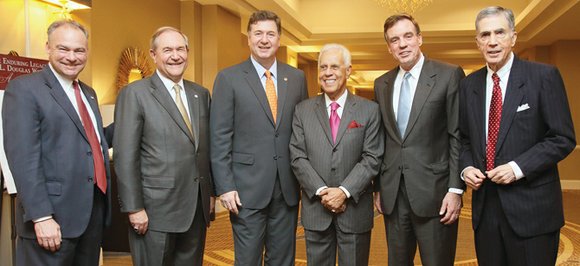 L. Douglas Wilder wore his million dollar smile as he entered the ballroom at the Downtown hotel where nearly 500 people had gathered to honor him.
The commemoration marked the 25th anniversary of his historic victory in Virginia as the nation's first African-American elected governor.
Mr. Wilder exchanged hugs and handshakes with the remarkable array of public officials, academics, community members, family and friends who assembled to pay tribute to the 83-year-old Church Hill native, the grandson of enslaved people, who rose as a moderate Democrat to serve as Virginia's 66th governor from 1990 to 1994.
A bipartisan Who's Who of Virginia politics past and present turned out last Thursday to help celebrate his historic election and its lasting legacy in the state, the nation and around the world.
Among those who spoke at the event: Gov. Terry McAuliffe and five former Virginia governors, Charles S. "Chuck" Robb, James S. "Jim" Gilmore III, George F. Allen, Mark R. Warner and Tim Kaine; and U.S. Rep. Robert C. "Bobby" Scott. Mr. Warner and Mr. Kaine now represent Virginia in the U.S. Senate.
The commemoration included a morning symposium examining Mr. Wilder's legacy and was organized by the L. Douglas Wilder School of Government at Virginia Commonwealth University, where Mr. Wilder serves as a distinguished professor.
Robert D. Holsworth, a former dean of the VCU College of Humanities and Sciences and a member of the university's board of visitors, moderated the event.
Mr. Wilder sat front and center with proud family members as speakers lauded him at the three-hour gala banquet.
The evening was filled with lots of laughs, warm recollections and acknowledgments of the critical importance of Mr. Wilder's historic ascension to the state's highest office and the doors it opened for black people and other minority candidates to gain higher office.
"There is no Barack Obama if not for Doug Wilder," declared Gov. Terry McAuliffe, who drew a loud ovation when he was introduced.
Gov. McAuliffe drew laughs when he said, "It's fitting that here you have Doug Wilder, the first African-American governor since Reconstruction, and Terry McAuliffe, the first New Yorker to become governor of the Commonwealth of Virginia."
Gov. McAuliffe praised the foresight of Mr. Wilder to help create the state's rainy day fund for budget emergencies, in helping balance the budget during a recession and in advocating for the creation of a one-handgun-a-month law that years later was repealed.
He brought the audience to its feet again when he announced he had issued an executive order earlier in the day declaring Dec. 5 "L. Douglas Wilder Day in the Commonwealth of Virginia."
Mr. Gilmore called Mr. Wilder's election a pivotal moment, adding, "It opened a door for all people everywhere."
He praised Mr. Wilder's ability to reach across the aisle as governor to work with Republicans, noting how Mr. Wilder convened a conference of attorneys general at Howard University, including Mr. Gilmore as Virginia's attorney general at the time, to address an epidemic of church burnings across the South.