L. Douglas Wilder's legacy honored
He was a new voice for Virginia
Robin Farmer | 12/12/2014, 5:55 a.m.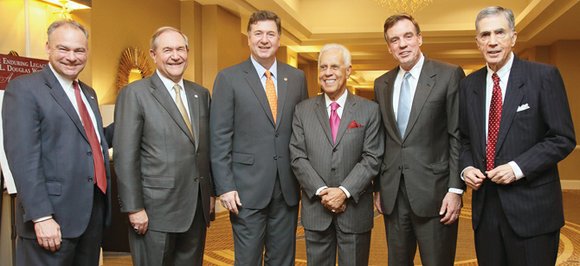 In making history a quarter-century ago by becoming the nation's first African-American elected governor, L. Douglas Wilder crossed a threshold that no African-American has followed in Virginia.
Even as America went on to twice elect a black president, no black person has held statewide office in Virginia since Mr. Wilder from 1990 to 1994.
Asked why this is the case during a Virginia Commonwealth University symposium last Thursday commemorating the 25th anniversary of his election, Mr. Wilder replied: "People need to know you and what you stand for. You have to have time to sell yourself."
Race cannot be the selling point, he said.
"No one will ever tell you I used race in my campaign," Mr. Wilder noted.  "After you make history" there is work to do. "'What the hell are you going to do for me?' That's what people want to know."
While Mr. Wilder's election did not usher in an era of black state officeholders, his achievements while in office were significant, according to two former governors, several high-ranking officials from his gubernatorial administration and journalists who covered his election and term in office.
Elevating the commonwealth's profile, creating the first rainy day fund and appointing a record number of minorities to state boards and commissions were among his accomplishments, symposium panelists said.
They talked about the legacy of Mr. Wilder's election and four years in office during a daylong symposium at VCU, where Mr. Wilder is a distinguished professor. The analysis by nearly a dozen people before a small audience included that of only one African-American, James W. Dyke Jr., who served on Mr. Wilder's cabinet as secretary of education.
Mr. Dyke noted that while Mr. Wilder inherited a $2 billion state budget deficit, he not only was able to balance the budget, but "he also created a rainy day fund."
"Managing the budget without raising taxes and with a minimum of layoffs will be an enduring legacy," said Jim Babb, a former Richmond television news reporter.
Margaret Edds, a former reporter and editorial writer for The Virginian-Pilot in Norfolk, credited Mr. Wilder for the passage of legislation limiting gun sales to individuals to one gun per month. The law later was repealed in 2012.
"Virginia was a source of gun trafficking for the Northeast," with some weapons used in crime, she said. The law was a huge accomplishment.
Speakers noted his fiscal prowess earned Virginia the designation as one of the best managed states in the nation for two years in a row.
Nearly every speaker noted the symbolic power of the election of Mr. Wilder, the grandson of slaves in a state that once was the heart of the confederacy — a victory whose margin was far smaller than predicted. Mr. Wilder, ahead by 10 points in exit polls, won by fewer than 7,000 votes.
"Wilder was a totally new voice for Virginia," said Michael Hardy, a former Richmond Times-Dispatch reporter. His election and inauguration, attended by thousands of jubilant people and celebrities from across the country, helped Virginia join the 20th century, Mr. Hardy said.