Nation's first elected black governor feted at gala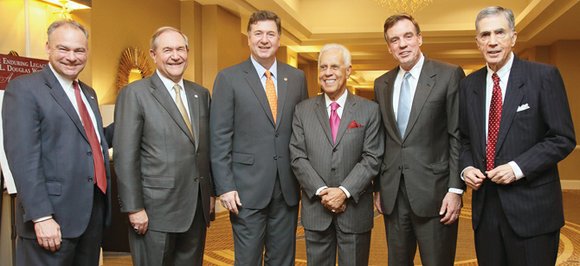 The church burnings stopped after that, Mr. Gilmore said.
Mr. Robb noted the diverse array of politicians assembled to honor Mr. Wilder.
"It's nice to be with you when it's not a funeral," he said, drawing laughter from the audience.
He recalled the jubilant reaction he and other Wilder supporters had on Election Night in November 1989 when Mr. Wilder was declared the winner of the gubernatorial contest over Republican Marshall Coleman by a razor-thin margin: It was "the most emotional political moment of our lives."
Rep. Scott, who holds the distinction as the first African-American Congressman elected in Virginia since 1890, recalled rallying support from skeptical Democrats in the General Assembly for Mr. Wilder's first run for statewide office. That was in 1985 when Mr. Wilder ran for lieutenant governor, becoming the first African-American to win statewide election in Virginia.
"I told them Doug was clearly the most qualified and we have to support him," Rep. Scott said.
He praised Mr. Wilder for "making Virginia proud."
Judge Roger L. Gregory of the 4th U.S. Circuit Court of Appeals introduced Mr. Wilder, his former law partner, to make closing remarks.
Judge Gregory said Mr. Wilder's "real secret is he loved the people" he served.
He called him "a lawyer for the common man."
In his remarks, Mr. Wilder downplayed his individual accomplishment in being elected the first African-American governor.
He called it "a tribute" to the people of Virginia "who were still showing that they could lead the way."
Mr. Wilder lamented that, since his election, only one other African-American, Deval Patrick of Massachusetts, has won a governor's race. Gov. Patrick was elected in 2006 and was re-elected to a second term in 2010.
"I have often said that being first is not good enough," Mr. Wilder said. "Until there is a second, the first could be considered aberrational or accidental."
He recalled traveling more than 3,500 miles visiting every county in the state, along with 300 towns and cities, during his campaign for lieutenant governor. He ventured into areas of the state that many people felt would be unfriendly to him.
"Not a single person during any campaign of mine, and specifically my campaigns for lieutenant governor and governor, ever refused to shake my hand. And never was I subjected to racial epithets or haranguing," Mr. Wilder said.
Mr. Wilder bemoaned the current lack of bipartisanship among politicians and called for a return to "government of the people, by the people, for the people."
"I would hope that we seize the moment and re-dedicate ourselves to those principles and demonstrate them by deed as well as word," he added.