Personality: Chad Coleman
12/12/2014, 6 a.m.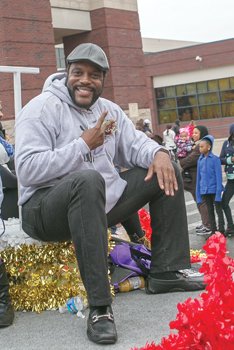 He has traveled the world as a videographer for the U.S. Army and acted in dozens of films and TV shows, including the award-winning HBO series "The Wire."
Most recently, he has been fighting zombies on AMC's hugely popular "The Walking Dead."
Still, Chad L. (for Luther) Coleman calls his appearance as grand marshal in the Dominion Christmas Parade "something special."
"It's like my hometown reached out and embraced me," the 48-year-old actor says of the cheers and waves from the crowd that filled city sidewalks last Saturday. "It was really wonderful to receive this kind of recognition."

The Free Press caught up with the bearded actor at Croaker's Spot in Petersburg, where he paused to talk about his life and career before sitting down for a meal with an entourage of friends and family that included his toddler son, Caleb, and girlfriend, former model Tracy McPeak.
Despite his current celebrity, Mr. Coleman comes across as a "regular" guy, who dotes on his child, is comfortable with himself, appreciative of his family and happy with the life he has created.
Mr. Coleman is a shining example of the saying "it's not where you start, but where you end up."
He was an 11-month-old baby in Creighton Court when his parents abandoned him and his two older brothers and two older sisters, ages 3 to 7.
He says that authorities finally stepped in after his oldest brother, Donald, now chairman of the Richmond School Board, accidentally started a fire trying to make eggs for his siblings. The children ended up in foster care.
He and the other children were lucky, he says, to land with George and Lottie Byrd, who provided the stability, discipline and love they needed to succeed.
As a teen, he found his future career in an after-school drama club at the combined Armstrong-Kennedy High School.
He came under the tutelage of his mentor, Robert Pemberton, who later helped him get his first acting gig in New York. "He was a tough taskmaster," but he "taught us how to act."

After high school, he was headed to acting school at New York University, he says, until a government grant dried up. Bored after a year in Virginia Commonwealth University's theater program, he says he enlisted in the Army.
"It was like a graduate school for me," he says. He not only learned about filming as he traveled to Japan, Korea, Germany and a range of U.S. bases, he also got experience with music videos and public service announcements.
Mr. Coleman got his start in showbiz as a stand-in on the "The Cosby Show" after he left the military to try to make it in New York. He got little attention, but became friends with actor Malcolm-Jamal Warner, who played Theo Cosby on the show. Mr. Coleman later appeared in Mr. Warner's NBC sitcom "Here and Now," though it lasted just five episodes.
Still, Mr. Coleman says he always was able to pay the rent. "I was ready for anything," he says. He did voiceovers and commercials to pay the bills and kept auditioning for parts.