Personality: Robert Dunham
Spotlight on Richmond teacher and founder of 'Be the Change RVA'
10/11/2019, 6 a.m.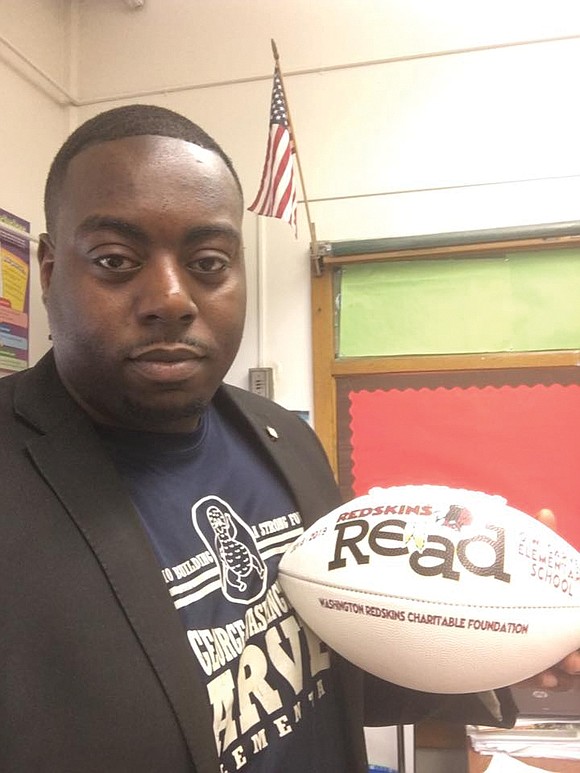 Robert Dunham proves that when it comes to teachers, he's a cut above the rest.
Mr. Dunham was a fifth-grade teacher at Carver Elementary School in June when he did what many teachers do on a daily basis — go above and beyond the call of duty.
Every year, Carver Elementary holds a "Moving On Ceremony" to congratulate fifth-graders completing elementary school and moving on to middle school, an honor students take great pride in as they dress up and share the spotlight as they enter the next phase of their education.
Mr. Dunham had an inkling some of his students wanted to look good, including a fresh haircut, but they were unable to afford the grooming update and didn't want to tell anyone.
As he was leaving home the day of the ceremony, Mr. Dunham grabbed his hair clippers, just in case. After arriving at Carver, he saw some of his students needed a haircut and gave all of them a "fresh cut."
"I look at my students as my own children," he says. "I wanted all of my students to look their best on their special day. That's love."
Mr. Dunham says, especially for young boys, "a haircut makes you feel confident, very special, like you can do anything."
It was his third-grade teacher at Public School 165 in Brooklyn, N.Y., Ms. Henry, who made a huge impression on Mr. Dunham.
"Ms. Henry embodies what I believe a teacher should do — teach with love," Mr. Dunham says. "She saw something in me and she pushed me and pushed me, more and more, to do better. I keep up with her on Facebook to this day."
He says Richmond Public Schools now is pushing to teach the whole student.
"RPS has students from a wide variety of backgrounds and so many different types of situations they go through at home," Mr. Dunham says. "Teachers have to be able to impart in a child a desire to be uplifted, not just academically, but in every area of their lives. That's what Ms. Henry did for me."
Little did Mr. Dunham know that a fellow teacher photographed his barbering skills that day at Carver. The photo went viral, hitting social media platforms and broadcast media outlets. The coverage sparked a call from one of America's hottest daytime talk shows, "The Ellen DeGeneres Show." Before Mr. Dunham knew it, he and his wife, Shaquana, were flying to Los Angeles for a live interview last June.
He didn't know he was in for another surprise the day of the show. Actor Dax Shepard, who was the guest host for Ms. DeGeneres that day, called the haircuts "a very beautiful gesture" and in return surprised Mr. Dunham with $10,000 to pay off his car and $10,000 toward a family trip to Disney World.
The Walt Disney Company owns "The Ellen DeGeneres Show."
After returning to Richmond, Mr. Dunham, who now teaches at Overby-Sheppard Elementary, founded "Be the Change RVA," a nonprofit that partners with local barbershops to give students free haircuts and mentoring and tutoring from others working in various fields.