Personality: Rodney A. Robinson
Spotlight on RPS 2018 Teacher of the Year
11/10/2017, 6:46 p.m.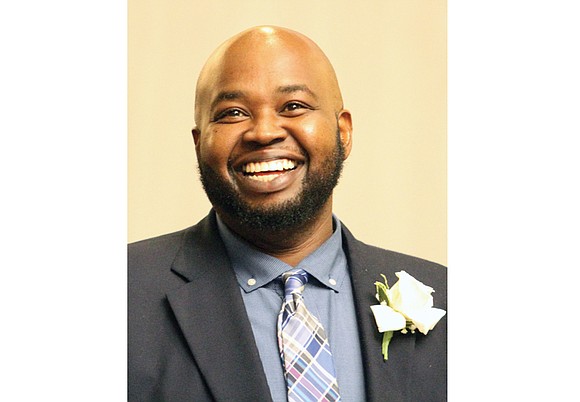 History, dedication, duty and fulfilling the dream of his mother paved the way for Rodney A. Robinson to become Richmond Public Schools 2018 Teacher of the Year.
The 39-year-old son of a construction worker and an in-home day care center owner teaches history and social studies at the Virgie Binford Education Center, which is part of the Richmond Juvenile Detention Center.
"My mother wanted to become a teacher," he recalls. "However, growing up in segregated King and Queen County, she was denied her goal and dream.
"She was my best teacher. She always pushed me, my siblings and other children under her care to further their education. She also taught me that you're never too old or young to learn something. I've always felt it was my duty to fulfill her dream."
Mr. Robinson's first teaching job was in 2000 when he was a civics and economics teacher at Lucille Brown Middle School. Since then, he has put to use the early lessons from his mother in working with students, including the unique population of students in juvenile detention that he has worked with since 2015.
"All students can learn," he says. "It is up to the stakeholders of the school to provide the students with all the tools they may need to learn."
He views the student-teacher relationship as the "most important tool" in fostering academic success.
"You have to get to know the students inside and outside of the school — what makes them tick and what they like to do. If the child doesn't feel like you genuinely care about their interests other than what they do on a test, then they will not perform for you the way they need to."
He incorporates fun into lessons, he said, to engage students and help them to learn and retain information.
"The more difficult the concept or topic, the more fun I try to make it," Mr. Robinson says. "When students are entertained, learning can rarely feel like learning. Through the use of games and music, student learning can be dramatically increased. I allow my students to create songs, skits and poems to help them better understand difficult concepts." His data-proven, best practices to invigorate learning are working.
At a ceremony Nov. 2 at a Downtown hotel, Mr. Robinson was announced as RPS' 2018 Teacher of the Year. He was selected by a committee of teachers based on his innovative classroom instruction, individual student performance and his demonstrated dedication to the profession.
"I was shocked and surprised," Mr. Robinson says, "but honored to be considered one of the best teachers in the state." Education does not begin nor end in the classroom, he says. His volunteer work coaching and officiating sports also helps him "to create a bond with students, parents and community stakeholders that I use in the classroom to promote student motivation and achievement.
"I try to be a role model and someone my kids can rely on as they look for advice or anything that they need," Mr. Robinson says. "Some need fatherly figures and some just need friends. I'm there to be whatever they need."