Personality: Carroll H. Ellis Jr.
Spotlight on geoscience educator at the MathScience Innovation Center
8/18/2017, 3:31 a.m.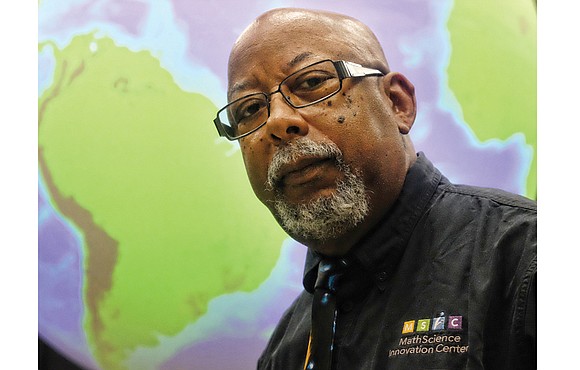 Carroll H. Ellis Jr. wants to see more African-American students embracing the geosciences as an area of interest, and ultimately, as a career path. The field, he says, holds the possibility of studying earthquakes, surface and groundwater, soil, mining geology and geochemistry, among other areas. His passion for the field has fueled his love of teaching for more than three decades.
"You have to love it," he says. "Some people just want to be teachers. But my love is science, and if I can explore and pass on that knowledge, that's what I'm about."
Mr. Ellis is a geoscience educator specializing in earth and environmental science at the MathScience Innovation Center in Henrico County. The organization focuses on science education for students and professional development in the sciences for teachers.
Prior to joining the MathScience Innovation Center eight years ago, Mr. Ellis taught science at Armstrong High School and then Martin Luther King Jr. Middle School for 23 years.
These days, he guides students through simulations that enable them to virtually travel to Mars, role play at the National Weather Service and participate in other interactive programs.
He says students often perceive science class as more work than they are willing to put in. But he encourages students to go beyond the basic requirements for science in school, with suggestions like taking advanced courses. To keep students interested and engaged, he says hands-on learning is key.
"When they can do science — touch it and get away from the textbook — that's when interest is generated because it becomes more than a class you have to take," he says. "The students actually enjoy it and look forward to it." The center helps students build analytical skills and gives them tools for higher level thinking and problem solving — skills he says he sees students struggle with today.
Mr. Ellis says when he goes into a traditional classroom, he takes 10 minutes to introduce a concept and the rest of the time is spent engaging students in activities.
Public schools often are more focused on students passing Standards of Learning tests, he says, which has caused many teachers to cut out field trips, one of the few interactive opportunities students receive.
But at the MathScience Innovation Center, educators have an opportunity to show students that science can be engaging and interesting, he says, setting a foundation for a lucrative career.
"There are lots of job opportunities (in the geosciences), and they pay well," Mr. Ellis says. "These job opportunities are wide open. Employers want diversity, but people of color are not applying because young African-Americans don't know about the jobs."
He sees the solar eclipse on Monday, Aug. 21, as a perfect opportunity for experiential learning. The center's students will observe the eclipse and participate in activities to learn about the moon and "why eclipses don't happen everyday," Mr. Ellis says.
For Richmonders observing the eclipse, he warns that sunglasses will not be enough to safely view it. Specialized solar viewing glasses are needed.