New boss at VSU
Hampton provost to take reins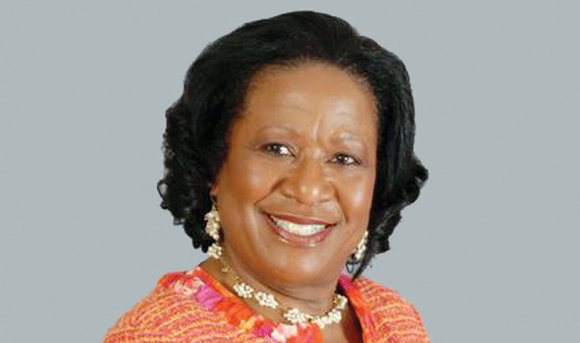 Pamela V. Hammond is on track to become the first woman to lead Virginia State University in the school's 132-year history, the Free Press has learned.
School sources said Dr. Hammond, the current provost or chief academic officer at Hampton University, has emerged as the board of visitors' choice to become interim president to replace Dr. Keith T. Miller, who submitted his resignation Oct. 31.

The sources said Dr. Hammond is scheduled to meet with the board this Thursday, Nov. 13 — the date the board set for choosing an interim leader for the university in Ettrick.
If all goes well, the board is expected to vote approval and introduce her as the choice for interim chief executive during the session, the sources said.

The sources said Dr. Hammond is expected to serve while the board conducts a national search for the school's 14th president. She would be regarded as a potential candidate, sources said, depending on her work as interim.
Her start date could not be learned, but it could be soon after Jan. 1.
Dr. Miller is to officially leave the post Dec. 31.

A former nurse educator, Dr. Hammond will take over a public university grappling with major budget troubles as a result of an enrollment drop of more than 1,000 students. The problems led to cuts in student services and could force faculty and staff layoffs.
She will arrive as VSU experiments with a new schedule that has lengthened regular classes times and purposefully slashed two weeks off the fall and spring semesters. The change provides a longer winter break during which the school, according to spokesman Tom Reed, will offer low-cost courses to enable "students to get ahead."
As best as could be determined, none of the vice presidents serving under Dr. Miller was considered for the interim post, an indication of the board's lack of confidence in the ability of members of Dr. Miller's administrative team to turn the school around.
According to the sources, board member Terone B. Green put Dr. Hammond's name forward.
Mr. Green is known to have worked with Dr. Hammond in his capacity as director of state development for the Sullivan Alliance, a group that seeks to steer undergraduates at historically black colleges and universities into medical and health careers.
Dr. Hammond fits the criteria the board set — significant connections with an HBCU, along with broad and deep experience in management and administration.
Dr. Hammond has spent much of her career at Hampton University, a private institution. She rose from teaching nursing students to becoming dean of the School of Nursing to provost, the post she has held since 2009.
As provost, she has been responsible for academic policies and educational programs for Hampton's 5,000 undergraduate and graduate students and 370 faculty members.
In that capacity, she has overseen all of Hampton's academic units, ranging from its seven schools to such elements as the College of Virginia Beach, the Davy Honors College, the College of Education and Continuing Studies, a leadership institute, the campus library and archives, a technology mall and the Hampton Center for Teaching Excellence.