Personality: Jordan R. Pearson
Spotlight on young playwright who helps others
11/14/2014, 6 a.m.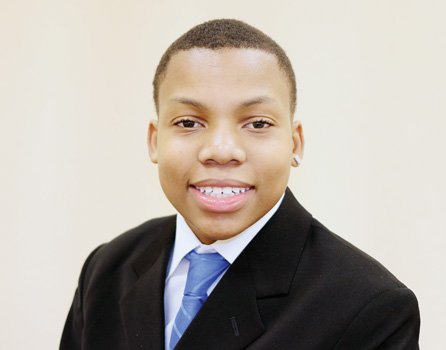 Want to go?
What: The new play "Choices," a Thanksgiving benefit.
Where: Henrico Theatre, 305 E. Nine Mile Road, Highland Springs.
When: 5 p.m. Saturday, Nov. 22. (Doors open at 4 p.m.)
Cost: $10 in advance; $15 at the door.
Details and tickets: Michael Pearson Sr., (804) 405-4472; Anjanette Pearson, (804) 382-0772; or Jordan Pearson, (804) 938-6320.
True or false: You have to be a grown-up to make a difference.
That's false, says 14-year-old Jordan Randolph Pearson. This poised youth with an easy smile and big personality is out to demonstrate how much a young person can do.
Jordan is seeking to benefit others by staging a play he wrote, "Choices," at the Henrico Theatre in Highland Springs.
He plans to use proceeds from ticket sales to cover the cost of providing dinners the day before Thanksgiving to 300 to 400 people struggling with homelessness and mental disabilities. The dinner is to be held at his church, Sixth Baptist in the city's West End.
"I love helping people," the freshman at Meadowbrook High School in Chesterfield County says in explaining why he is doing the project.
He credits his father, Michael R. Pearson Sr., with inspiring him.
Along with owning two group homes for adults and a bail bonding business, his father also assists others through his nonprofit, Friends Helping Friends.
For the past eight years, Mr. Pearson has used FHF to put on summer basketball camps for underprivileged children, provide holiday meals for needy families and raise money for other people-helping causes.
The dinner Jordan's play is helping to pay for is a project of Friends Helping Friends.
"I've been involved with the group for years, and I wanted to do my part," Jordan says.
He says he got the idea for the play after he and his father attended a program at the theater. During the event, he says his father turned to him and said, "Wouldn't it be great if we could do something here?"
After he got home, Jordan says he stayed up all night and came up with the idea of a play focusing on the challenges and choices a teenager faces.
He set the play in Richmond in 1962, during the era of segregation. He says the message he wants to send is that "making the right choice is always right."
This is his first play. He says faith and his experience acting in church and school productions since he was 6 and his current participation in his school's Improv Team, an entertainment group, enabled him to complete the play and get it ready for an audience.
Along with producing the show, Jordan is playing the lead. He also recruited the seven other actors. Family support has been crucial in booking the theater, developing programs and selling tickets.
His uncle, Bobby Pearson, and family friend, Richard Franklin, also have pitched in to build the sets and handle the lighting and sound.
"It's a big undertaking," Jordan says.
A close-up of this week's Personality, Jordan R. Pearson:
Birthdate and place: May 22, Chesterfield County.