Meal program expanded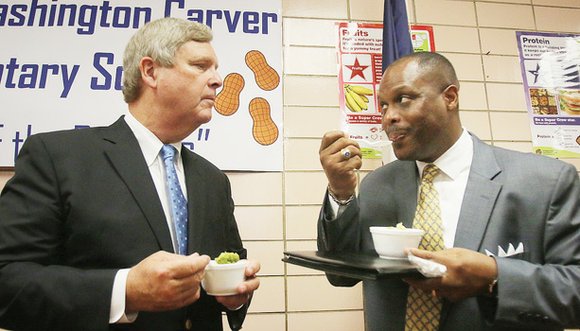 Carver Elementary School students eagerly filed through the cafeteria line.
The fare for their Monday lunch included healthy turkey sandwiches served on whole-grain bread, broccoli, oranges and apples, applesauce, fruit juices, water and milk. Bags of baked potato chips also were available.
Fifth-grade teacher Evette Cartwright smiled as she watched her students eat. She heaped lavish praise on Richmond Public Schools' decision to participate in a federal program that provides nutritious free breakfasts and lunches to the entire student body at Carver and the city's 43 other public schools.
In the past, free breakfasts and lunches were offered only to students from low-income families. Those numbers were high in the city schools.
"The children come to school happier and ready to work," Ms. Cartwright told a Free Press reporter. She is in her ninth year teaching at the Leigh Street school. "They come to school on time and they're not as angry, which helps the teacher manage the classroom better.
"This has changed the climate and culture of the students. It has helped Carver a great deal."
On Monday, U.S. Secretary of Agriculture Thomas J. Vilsack visited Carver to recognize RPS' efforts and join a roundtable discussion on the new Community Eligibility Provision, which allows qualifying schools to forego individual applications for free and reduced-price breakfast and lunch and offer free meals to all students.
He was joined by state and local officials, including RPS Superintendent Dana T. Bedden, Virginia First Lady Dorothy McAuliffe, Virginia Secretary of Education Anne Holton, U.S. Rep. Robert C. "Bobby" Scott, state Sen. A. Donald McEachin of Henrico County, state Delegate Jennifer L. McClellan of Richmond and Richmond School Board Vice President Kristen N. Larson.
Dr. Bedden called the district's decision to enroll in the program a no-brainer.
"If you're hungry and your stomach's growling, how are you paying attention? How do you focus?" he rhetorically asked.
In Richmond last year, 74 percent of students qualified for free or reduced-price meals.
The program has been rolled out nationally since it was instituted in 2010, with participation by 4,000 schools in 11 states. It became available in the other 39 states, including Virginia, July 1.
Thomas E. Kranz, assistant superintendent for support services, estimated that federal funding to provide the meals would bring an additional $80,000 into the Richmond school district's coffers this year.
"Anything we can do to remove barriers is the right thing to do," Dr. Bedden said. "If we didn't do this, we would be holding kids hostage to adult issues."
Secretary Holton pointed out that more than half of the 80 or so schools in the state participating in the program are in Richmond.
She said she anticipates "hundreds" more schools in the state's 132 school divisions will participate in the nutrition program once they observe RPS' success story.
Secretary Holton said some districts have been slow to join the effort because of concerns about the effect it could have on their local budgets.
Secretary Vilsack asked for suggestions from panel members of how the federal government could "tweak" the program to make it better.