Meal program expanded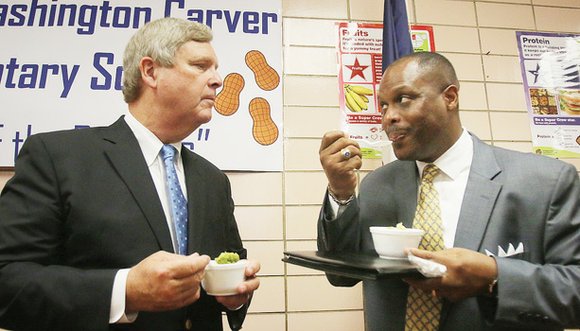 Rep. Scott, whose district includes parts of Richmond, said afterward he strongly supports the nutrition program because it ensures students from low-income communities will not have to "go without" nutritious meals as they seek an education.
Ms. Larson told the Free Press the initiative is a win-win situation for the city.
"It provides more meals to kids who need them and it reduces our costs," she said of the federal reimbursement.
"This way, we know they're getting some sort of balanced meal before they start their school day and then they're getting recharged at lunchtime," Ms. Larson added.
After the roundtable discussion, Secretary Vilsack headed to the cafeteria packed with dining students. There, he conversed with Dr. Bedden as the two enjoyed broccoli prepared by cafeteria staff.
He announced a $31.5 million federal grant program that will help participants in the Supplemental Nutrition Assistance Program, known as SNAP, gain better access to affordable foods like fruits and vegetables.
The secretary said the program, known as The Food Insecurity Nutrition Incentive, would link local farmers, food markets, food pantries and others to increase the purchase of fruits and vegetables by SNAP participants.
Mr. Vilsack said he expects that program to go into effect in early 2015.