Local supplies, hope headed to Africa's Ebola-stricken areas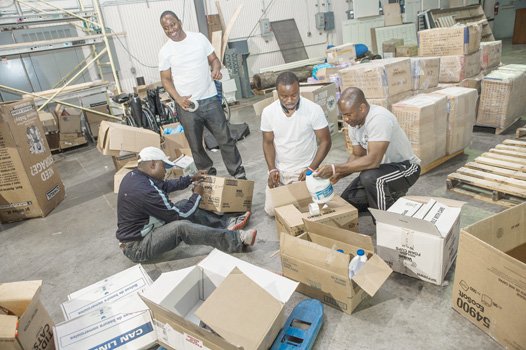 First it was a problem "over there."
Now it's over here.
And people are scared.
"It's the stigmatization," said Dr. Calvin A. Birch, pastor of African Christian Community Church in Henrico County. "That's the big obstacle."
Dr. Birch is chairman of Virginians in Action for Liberia Against Ebola.
The campaign began in August, formed by Virginia residents with personal connections to Liberia.
The West African nation is one of three hit hardest by the Ebola epidemic. Nearly 5,000 people have died from the Ebola outbreak in Liberia, Guinea and Sierra Leone since December 2013.
Many VALAE participants have lost relatives to Ebola. During the weekend, several members and volunteers packed boxes of medical and food supplies that will be shipped to three high-risk counties in Liberia.
The supplies, which include 250 boxes of rice and beans, will take four to six weeks by cargo ship to reach Liberia, Dr. Birch said.
In the United States, while one is more likely to get struck by lightning than contract the Ebola virus, people are still afraid.
As was the case with the AIDS scare in the 1980s, many Americans ignore facts and indulge that fear.
And fear begets panic, prejudice and myriad other problems.
"The fear is reasonable," Dr. Birch told the Free Press. "Nobody wants to die, and nobody wants their country overcome by this disease."
Dr. Birch's eldest daughter, Olive, is attending the University of Liberia in the nation's capital, Monrovia. Classes have been canceled at all schools in the area.
Dr. Birch said he and his wife, Joan, are struggling with the fact that they didn't get Olive out of Liberia earlier.
"But she is OK now," he stressed.
Fortunately, communication has not been a problem.
"The world has become a global village, and cellphone service in Liberia is actually cheaper than it is over here," Dr. Birch said.
In response to calls for a ban on travel from Liberia, Guinea and Sierra Leone into the United States, the government announced Tuesday that all airline passengers from those countries will be funneled to five airports — Dulles International in Northern Virginia, Chicago O'Hare International, Hartsfield-Jackson Atlanta International, John F. Kennedy International in New York and Newark Liberty International.
Last week, President Obama appointed attorney Ron Klain, 53, the nation's Ebola czar.
Mr. Klain, who has served as chief of staff for two vice presidents — Joe Biden and Al Gore — will be the national response coordinator for Ebola. He will report to the homeland security and national security advisers.
The first patient diagnosed with Ebola in the United States was Thomas Eric Duncan on Sept. 30. Mr. Duncan had traveled from Liberia to Dallas earlier in the month. He died Oct. 8.
Two of Mr. Duncan's nurses at Texas Health Presbyterian Hospital, Nina Pham and Amber Vinson, later tested positive for the Ebola virus. Both are being treated in isolation in East Coast medical centers.
Dr. Thomas Frieden, director of the U.S. Centers for Disease Control and Prevention, said Dallas hospital workers may not have had the proper protective equipment or training in dealing with Ebola.
"We need education," Dr. Birch told the Free Press. "Thank God President Obama sent troops (to West Africa) with supplies and educational materials."
He said VALAE continues to collect supplies to aid in the effort to contain Ebola in Africa.
Among the supplies sought: Bleach, hand sanitizer, rubbing alcohol, disinfectant spray, analgesic/fever reduction medication, latex and vinyl gloves, hospital gowns, disposable boot and shoe covers, face shields, hair nets, disposable aprons with sleeves and splash-protection safety goggles.
"Human response has been very slow," Dr. Birch said.
He noted that all financial contributions to VALAE go toward purchasing supplies.
The minister said he hopes to make a big splash when contributions pour in.
"We need to use those big checks — like when someone wins the lottery," he said.
"We want to put a positive face on this."