Justices want wins now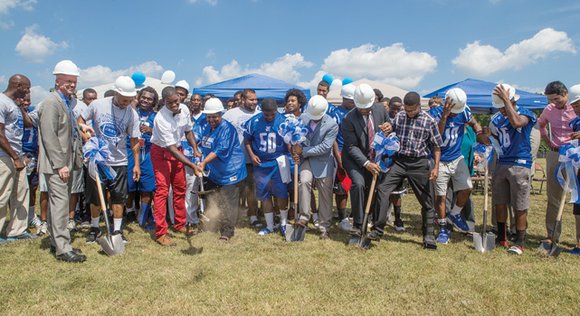 Why wait?
That's the catchphrase this season for a John Marshall High football program trying to rebound from an 0-10 disaster in 2013.
First-year coach Damon "Redd" Thompson explains:
"People say we can be good in two or three years … that's not me …I say 'why wait?' That's our motto."
The Justices were a combined 13-7 in 2011 and 2012 before the train veered off the track last fall in coach Marvin Bridges' farewell campaign on North Side.
JM can only hope Thompson is as successful snagging coaching victories as he was running pass patterns.
"I expect greatness," he said boldly of his first head varsity coaching gig.
From Highland Springs High, Thompson became one of the all-time top receivers at Virginia State, in CIAA and NCAA Division II.
He is a member of the VSU and CIAA Halls of Fame.
Between 1997 and 2000 in Ettrick, he had 268 receptions for 4,387 yards and 37 TDs. From there he went on to become a perennial Arena League all-star.
While Thompson oozes with confidence about JM's  upside, he concedes he hasn't spotted his physical equal (for as receiver) during summer drills.
Asked if there was an "up and coming Redd Thompson" in camp, he laughed and said:
"Haven't seen one yet; if I do, I'll call you."  
•
Of all Richmond-area athletes, JM's Aaron Boone may be involved in the most dramatic football role transition.
He's going from drum major to quarterback.
"I like to try new things," said the 5-foot-10, 160-pound junior who has operated Thompson's first team offense in scrimmages against Nottoway and Colonial Heights.
Boone plays all brass instruments and has been a member of the band since eighth grade at Franklin Military.
"Aaron has no game experience, but he's an athlete … and a smart learner," says Thompson.    
JM Athletic Director Lamont Davis calls Boone "a born leader."
Boone's previous football experience — all as running back — was with the Hotchkiss Association and North Richmond YMCA youth teams.
A year ago Boone watched games from bleachers in his band uniform. This year he's wearing jersey No. 9.
"I started aching from watching the games — I wanted to be out there so bad," said Boone.
Thompson says that, in the aftermath of an 0-10 season, camp opened this summer with all positions wide open.
"No one is on a pedestal," said Thompson. "Every practice is like an audition.
"I tell the kids 'do something to make me notice you.'"
•
There will be no on-campus games this fall as the JM field undergoes construction.
The Washington NFL team has donated $100,000 to help pay for the project; that sum was matched by the City of Richmond and Richmond Public Schools.
AD Davis is hopeful the field will be ready for soccer this spring. There is no lighting in first phase of plan.
Also, Davis says JM intends to stay in Division 3A for the foreseeable future, despite reports it would drop to 2A.
The Justices are members of Conference 26 with other city schools, Hopewell and Petersburg, but is contractually obligated to continue playing old Colonial District slate against much larger county schools.