Personality: Dr. Sandra B. Barker
Spotlight on pioneer in linking health, people and pets
9/19/2014, 6 a.m.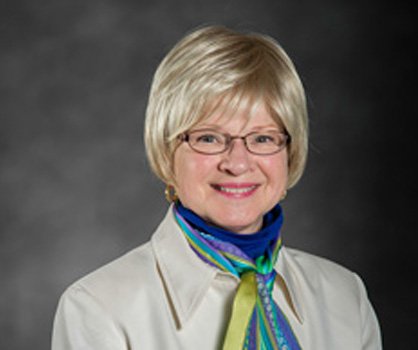 Sandra Bobkin Barker is a dog lover.
She also has a professional interest in finding ways to help people overcome challenges and improve their lives.
The aptly named psychiatry professor brings both worlds together at the VCU Medical Center in Downtown.
As director of the Center for Human-Animal Interaction, Dr. Barker, 64, has pioneered the use of therapy dogs to aid patient recovery.
As a result of her work, trained dogs come to the hospital almost every day to visit with everyone from patients to staff. Her research shows that patients and everyone connected with them — doctors, nurses and family members — do better by having contact with loving, trained animals that offer comfort and entertainment.

"Our research shows visits from our dogs" benefits patients, increases employee job satisfaction and even helps students cramming for exams, Dr. Barker says. People coping with illness or injury show "reduced anxiety, stress and fear" as a result of the interaction with a four-footed visitor, she says. The interaction improves patient outcomes.
Currently, about 40 volunteers regularly bring their trained pets to interact with people on the medical campus, she says. The registered teams of owners and pets also visit students during midterms and final exams because of findings that such visits reduce stress.
"We'd love to have more dog owners who are interested in becoming part of our program," Dr. Barker says.
She has led the nonprofit center for 13 years. The center grew out of her research dating back to 1988 that interaction between people and animals could promote health.
Dr. Barker says she was inspired by a mentor while teaching at a West Virginia graduate school to find a way to merge her love of animals with her psychology studies. At first skeptical, she has since done just that.
In 2001, she helped found the center and put VCU Medical Center on the map as the first hospital in the country to welcome therapy dogs.
Her research has spread the idea to other medical centers that now include dogs as a recognized patient therapy. She also is pleased she could partner with her husband, Dr. Randolph T. Barker, a VCU business professor emeritus and an animal lover, on some of the research. He participated in the early research, she says, and two years ago, he wrote a paper with her on the benefits of pets in the workplace that has drawn international attention.
Dr. Barker brings plenty of credentials to her work. In addition to earning a Ph.D. in psychiatry, she is a licensed certified counselor, a national certified counselor and a master addictions counselor.
Even with a busy clinical and teaching schedule, the full-time VCU professor also finds time to teach classes on human-animal interaction to budding veterinarians as an adjunct professor at the Virginia-Maryland Regional College of Veterinary Medicine at Virginia Tech in Blacksburg.
She also helped establish the Pet Loss Support Hotline at the veterinary college to establish pet loss counseling groups for clients of veterinarians. She also is regularly called to consult on human-animal interaction and pet loss with area professionals and community groups.
Essentially, she has made it her mission to raise awareness of the good that comes from the relationship between people and animals.
A close-up of this week's Personality, Dr. Sandra B. Barker:
Place of birth: Boston.
Current home: Hanover County.
Alma maters: University of Florida, bachelor's degree; Florida State University, master's degree; Florida State University, Ph.D.
Occupation: Director, VCU School of Medicine's Center for Human-Animal Interaction; professor of psychiatry and Bill Balaban Chair in Human-Animal Interaction.
Purpose of center: To provide a formal structure for and to promote interdisciplinary and inter-institutional research, clinical practice and educational activities involving that interaction.
Animal-assisted therapy is: The incorporation of a trained animal into a patient's treatment plan by a health care professional.
Center's scope of work: The center's most visible program is "Dogs On Call," our therapy dog visitation program at the VCU Medical Center. The center also conducts internationally recognized research on the health benefits of interacting with companion animals. We also educate the next generation of health care providers and psychiatrists and provide presentations to professional and public audiences.
How "Dogs on Call" works: The program brings therapy dogs and their volunteer owners, who include community members and VCU students and employees, to visit patients and their families and the staff throughout the VCU Medical Center. Dogs and their handlers also visit students on VCU's Downtown and Monroe Park campuses during midterms and final exams. All participating dogs and owners must be registered and follow strict policies and procedures.
Value of such interactions: Our studies document reduced anxiety, stress and fear among children and adult patients and their families. Our health care professionals attest to the comforting and calming impact on patients who receive visits. Some patients do not respond until they get a dog visit.
Number of volunteers: Forty and growing. We welcome dog owners interested in becoming part of "Dogs on Call."
Number of interactions per year: More than 7,000.
Why center is needed: The center provides an evidence-based therapy that complements traditional medicine, increasing the healing therapies available to our patients at the VCU Medical Center. "Dogs on Call" also serves as a model for other health care facilities interested in including animal-assisted interventions among their patient services. Our research shows this is a low-cost therapy that has no negative side effects, and our published work has increased awareness of the benefits among professionals and the public.
How center is financed: We are a 501 (c) (3) nonprofit that operates primarily on donations funneled through the Medical College of Virginia Foundation.
My pets: After losing our last two dogs, Phoebe and H.I., we are currently between pets, but we volunteer on weekends with a group that rescues dogs and cats.
I am most motivated by: My passion and curiosity related to the human-animal relationship.
Best late-night snack: Freshly made popcorn.
The one thing I can't stand: Dishonesty and disrespect.
Nobody knows that I: Wrote lyrics to a rap song that was recorded.
Person who influenced me the most: My mother.
Books that influenced me the most: "Man's Search for Meaning" by Viktor Frankl, "In the Company of Animals" by James Serpell, "To Kill a Mockingbird" by Harper Lee and "1984" by George Orwell. 
What I'm reading now: "The Leadership Challenge" by James M. Kouzes and Barry Z. Posner and "The Orphan Master's Son" by Adam Johnson.