Personality: Janet M. Moses and Pocket
Spotlight on volunteer duo for SPCA's Paws for Health
3/24/2017, 7:04 p.m.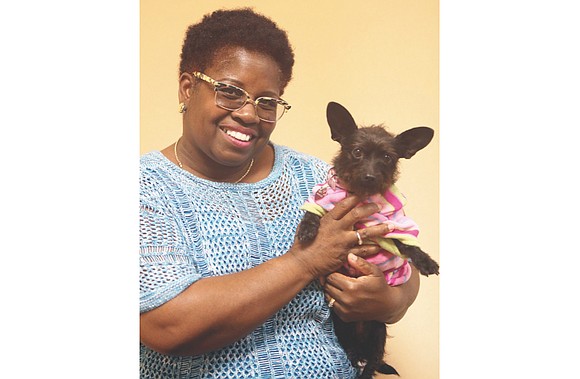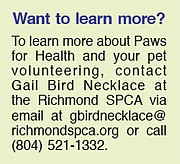 When she enters a room, her excitement and eagerness to entertain others overwhelms the space and the people in it.Usually dressed to impress, she greets longtime friends and strangers the same way — with a contagious enthusiasm for connection. Her personality is much larger than her 7-pound frame. Her joy in making friends easily attracts strangers.
Her name is Pocket and she and her human parent, Janet M. Moses, visit local hospitals, nursing homes and retirement communities in Metro Richmond as volunteers with the Richmond SPCA's Paws for Health pet visitation program.
The duo visits with patients individually and in groups, where the 5-year-old Chihuahua-terrier mix does tricks and allows people to pet her and fawn over her outfits designed by Ms. Moses.
"People like her kisses and tricks," Ms. Moses says, noting there are about 40 tricks in Pocket's repertoire, including rolling over, playing dead, picking up her toys and putting them away and riding a skateboard.
"Most people like her to say her prayers," Ms. Moses says.
She's also teaching Pocket to knock over bowling pins and to play the piano. Studies of programs like Paws for Health have been shown to help patients by lowering blood pressure, improving cardiovascular health, decreasing feelings of isolation and depression, encouraging communication, reducing boredom and loneliness and much more.
Ms. Moses, who has been participating in the SPCA's program for four years, sees the happiness Pocket brings to people. Pocket's bubbly personality and tail wagging can get people out of their shells if only for a few minutes.
"I like to see the spark in people's eyes when they see Pocket," Ms. Moses says. "I enjoy hearing their stories and laughter." Ms. Moses recounted how, during a regular visit to an assisted living facility, she and Pocket encountered a new patient who had Alzheimer's disease. As the patient petted Pocket, he talked with Ms. Moses about dogs he had owned during the course of his life, getting into specific details about their names and breeds.
The staff later told Ms. Moses that Pocket's visit elicited the most they'd heard the man speak since he entered the facility.
In a different instance, a 4-year-old special needs child whose communication consisted of only 10 words added the word "dog" to his vocabulary after an interactive visit with Pocket.
"I view volunteering with Paws for Health as a ministry," Ms. Moses says. "Every visit we make, there are lots of smiles."
Pocket has always had a special, engaging personality that can make any challenges a little easier. "She's always like this," Ms. Moses says. "I saw this in her (when she was a puppy) and I thought, 'I've got to share her.' "
Ms. Moses and Pocket both went through training before being accepted as volunteers with Paws for Health. Ms. Moses says she was required to shadow an existing team without Pocket to see how the pet visitation process works. Next, she and Pocket did a visit where they were shadowed by a Paws for Health observer. Ms. Moses and Pocket then were evaluated and found to be a good fit for the program.