Personality: Amy E. Robins
Spotlight on co-founder, volunteer coordinator of RVA Clean Sweep
3/4/2017, 9:40 a.m.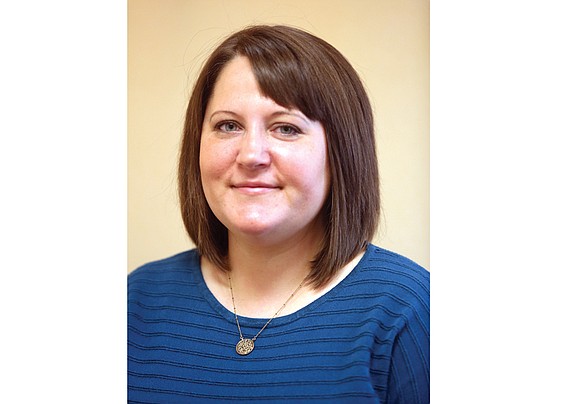 Keeping Richmond's neighborhoods clean and litter free is about more than just aesthetics for Amy Elisabeth Robins. "If you live in a community where residents and children are walking through trash, that has a negative impact on quality of life," she says.
"Once-a-year cleanups don't work," she explains. "The effort needs to be consistent because it is easier for people to join in."
The native Richmonder, co-founder and volunteer coordinator of RVA Clean Sweep calls upon volunteers and uses social media to accomplish the monumental task of regular community cleanups.
"We use Facebook, Twitter, Instagram and meetup.com," she says.
A core group of 15 to 20 volunteers uses these platforms to schedule cleanup projects in specific neighborhoods and at Richmond parks. Lead volunteers first train with Ms. Robins to learn best practices on establishing a regular schedule, and then RVA Clean Sweep provides supplies and loans tools to volunteers.
The ultimate goal is to maintain clean environments to reduce the amount of litter entering the James River. Ms. Robins started the nonprofit RVA Clean Sweep in 2014 with two friends who are fellow environmental health enthusiasts, Richmond photographer Dave Parrish and Natalie Cane.
Ms. Robins says she is approached all the time by city residents seeking to clean up their neighborhoods. She guides them to work with their neighborhood organization to bring attention to the need for a cleanup and she explains how RVA Clean Sweep can help and establish a sustainable effort.
Ms. Robins' efforts to preserve and maintain Richmond's beauty does not stop with her organization. She also volunteers with Richmond Tree Stewards, an organization that works year-round to maintain the city's tree population by planting in the fall, pruning when needed and educating the public about the relevance and necessity of trees.
"Trees reduce stress and produce a cooling effect," Ms. Robins says. Mature trees can increase curb appeal and value of a property, decrease heating and cooling bills and improve water quality.
She says that reducing litter, preserving the environment and properly caring for trees have physical and psychological impacts on residents and, like any health regimen, will not change overnight.
"Litter is a long fight," she says. "It requires continued efforts over time."
Meet this week's Personality and "Queen of Clean," Amy Elisabeth Robins:
Occupation: Richmond City Council Liaison for 5th District City Councilman Parker C. Agelasto.
Community involvement: Co-founder and volunteer coordinator, RVA Clean Sweep; Richmond Tree Stewards; and Randolph Neighborhood Association. 
Date and place of birth: June 26 in Richmond.
Current residence: Randolph in the city's West End.
Alma maters: Associate degree, J. Sargeant Reynolds Community College; bachelor's in environmental studies and master's in water policy, Virginia Commonwealth University.
Family: Wife, Katy Robins.
When RVA Clean Sweep was founded: On May 11, 2014, as an all volunteer-run litter cleanup group. We are lucky and grateful for the support of supplies from the Richmond Clean City Commission. 
No. 1 objective: To reduce the amount of litter in the James River and Richmond neighborhoods through organized litter cleanups. To date, we have conducted more than 220 litter cleanups. 
Strategy for achieving it: We partner with neighborhood associations to encourage consistent monthly litter cleanups. We also partner with the James River Park System and the Richmond City Department of Parks, Recreation and Community Facilities.
Why I do this: I believe litter wears on people's souls as much as it wears on the environment.  Everyone may not consider Richmond a tourist city, but we are. I hate the idea of visitors coming to Richmond and leaving thinking we are a trashy city. 
Upcoming events: We have two cleanups in South Side and one in Fulton coming up in the next two weeks. Please visit our meetup page for the full calendar of dates and times at www.meetup.com/RVA-Clean-Sweep.
How to become a volunteer: Please find a cleanup on meetup and come on out! We provide all the supplies. 
Age of youngest volunteer: We have had parents come with infants strapped to them. Active youngest volunteer was probably 2 years old. We welcome children, however, we encourage them to come to the park cleanups rather than neighborhood cleanups because of car traffic.
Age of oldest volunteer: We generally don't ask adult volunteers for their age, but I do know we had a 70-year-old volunteer on a recent weekend. 
Locations RVA Clean Sweep has cleaned: Neighborhoods include Randolph, Oregon Hill, Maymont, Uptown, Carytown South, Stadium, Beaufont, Swansboro, Manchester, Bellemeade, Blackwell, Scott's Addition, Forest Hill Terrace, Forest View, Fulton, Newtowne and Northrop. Parks include Forest Hill Park, Carter Jones, Byrd Park, Petronious Jones, Texas Beach, Pony Pasture, Belle Isle, North Bank, Flood Wall, Ancarrow's Landing, Great Shiplock Park, Capital Trail and Canoe Run Park.
Biggest RVA Clean Sweep challenges: Litterers in vehicles. They commit their crime and drive away without any thought. The neighborhoods are left with the mess and unable to have an open dialogue to help change the habit. 
What Richmonders can do to contribute to a cleaner city: Do not allow litter to be a part of this city. If you see a piece of litter, pick it up. If you see someone littering, ask them to not litter. If you know someone who litters, have a conversation about why littering is wrong. Also, please praise someone if you see them picking up litter. We can see from crossing a street in one neighborhood to another where people feel it is appropriate or not appropriate to litter. Lastly, please understand litter is a long fight. It's a societal issue that won't be solved with one cleanup but rather continued efforts over time. 
Best late-night snack: Dark chocolate with a cacao contact that is 70 percent or higher.
Outlook at start of day: You must be the change you wish to see in the world. 
Best thing my parents ever taught me: My dad showed me what back-breaking hard work looked like. He also taught me and my brothers, "You always leave a place cleaner than you find it." 
Favorite outdoor space: Anywhere close to flowing water that is litter free. 
Three words that best describe me: Friendly, determined and doer.
No. 1 pet peeve: Littering.
No. 2 pet peeve: Graffiti.
No. 3 pet peeve: Drivers not using turn signals. 
Person who influenced me the most: Too many beautiful, intelligent, strong-minded women to list!
The book that influenced me the most: "Stranger in a Strange Land" by Robert A. Heinlein. It has been years since I read it, but it often slips into my thoughts. 
What I'm reading now: "A Walk in the Woods: Rediscovering America on the Appalachian Trail" by Bill Bryson.
The one thing that I've learned in life is: The world is full of wonderful people if you stop looking for the negatives. 
My next goal: To recruit more neighborhood volunteer leaders to conduct additional monthly cleanups throughout our city and to see the city support their efforts with additional street trash cans. I am also interested in organizing a volunteer effort to help Richmond neighbors repair property damage from graffiti taggers.