Family discord mars memorial service for Bobbi Kristina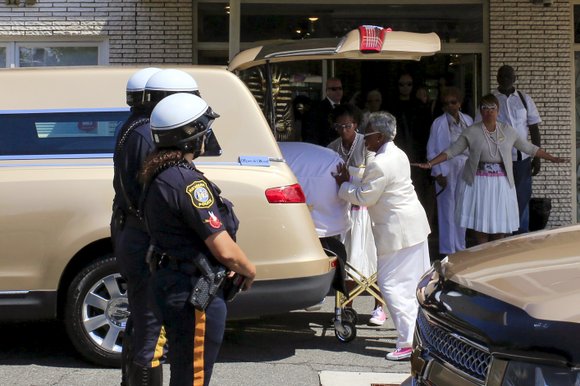 Bobbi Kristina Brown was buried early Monday afternoon next to her iconic mother, Whitney Houston, at a cemetery in New Jersey.
Ms. Brown, 22, died July 26 after nearly six months in a coma. She was found Jan. 31 face down and unresponsive in a bathtub and suffered irreversible brain damage in the still unexplained incident at her Roswell, Ga., home.
Two SUVs carrying relatives followed the hearse from a Newark funeral home to Fairview Cemetery in Westfield.
Ms. Brown's aunt Pat Houston and her daughter Rayah Houston, grandmother Cissy Houston and cousin Dionne Warwick were among those photographed outside the Whigham Funeral Home, which also handled Whitney Houston's funeral arrangements in early 2012.
A former bodyguard to Ms. Brown's mother told People Magazine on Monday that Ms. Brown's father, Bobby Brown, "seemed out of it."
Fans and the media were banned from the graveside ceremony, which People said appeared to have a pink theme in honor of Ms. Brown's favorite color, with pallbearers wearing pink Converse tennis shoes and belts.
Last Saturday's memorial service at a suburban Atlanta church for Ms. Brown also was private. However, it was marred by Ms. Brown's aunt, Leolah Brown, her father's sister, reportedly stalking out of the funeral during a eulogy by Pat Houston, the sister-in-law of Whitney Houston.
The memorial service "was wonderful until Pat started speaking," Leolah Brown told media outside St. James United Methodist Church, noting that she yelled out to Pat as she was leaving that Whitney would haunt her sister-in-law from the grave. "She is being the phony person that she is."
Shortly after attending his daughter's funeral, Mr. Brown had to rush his wife, Alicia Etheredge, to the hospital, TMZ reported. 
Ms. Etheredge, who gave birth to the couple's daughter Bodhi Jameson Rein Brown on July 9, reportedly was suffering from seizures in the family's hotel room and was taken to the hospital in an ambulance.
Ms. Brown's boyfriend, Nick Gordon, who found her in the bathtub and was banned from the funeral, is facing a $40 million civil lawsuit. In court papers filed by Ms. Brown's conservators, he is accused of domestic abuse and theft of money.
Ms. Brown's death came three years after her mother was found dead in the bathtub of her Beverly Hills hotel room.