'Golden Girl' returns an Olympic hero in bocce
Fred Jeter | 8/7/2015, 12:01 p.m.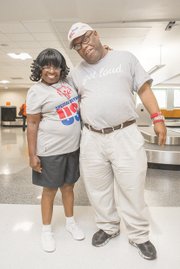 Mary Davis is Richmond's newest "Golden Girl."
At 72, she proves it's never too late to shine athletically.
The perky Midlothian resident returned to Richmond on Monday night with three medals from competing — including winning gold — in the Special Olympics World Games in Los Angeles.
Representing the United States, Mrs. Davis competed in bocce, a cross between bowling and curling. She clinched a gold medal in the four-person team competition and won two bronze medals in doubles and singles competition.
"I love bocce ball and I'll never stop. It gives me something to do," the ever-smiling athlete told a group of friends and family who met her and several of her Virginia teammates with cheers, balloons and signs at Richmond International Airport. Her husband, Vance, was front and center.
They urged her to put on her medals, but because of a baggage problem, her luggage containing the medals didn't arrive until Tuesday.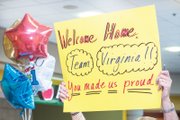 The Special Olympics World Games take place every two years and drew some 7,000 athletes from 177 nations for competition in 16 different events ranging from aquatics and horseback riding to tennis and volleyball.
Mrs. Davis was the oldest member of the U.S. team's 491-athlete delegation. She also was one of the shortest at well under 5 feet. Plus, she's missing two fingers on her left hand — her non-throwing hand — as a result of a long-ago workshop accident.
"Don't bother me," she said of her missing digits. "I can cook. I can sweep. I can do anything I want."
Mrs. Davis had a front-row seat at the inspiring, nationally televised opening ceremonies July 26 at Los Angeles Memorial Coliseum, where singer Stevie Wonder performed and First Lady Michelle Obama welcomed athletes from around the globe.
During the ceremonies, many of Mrs. Davis' friends spotted her on TV during the long, emotional procession of athletes around the coliseum track.
"My feet got so sore, doing all that walking," Mrs. Davis said. "I got blisters. I had to put Band-Aids on them to play bocce."
Mrs. Davis and her husband have been competing in bocce for years. They were introduced to the sport by Karen Koch, a longtime area Special Olympics volunteer.
The couple also bowls with their son, Tom, a popular disc jockey at Chesterfield County functions.
Mrs. Davis qualified for the World Games by winning the Area 6 championship in Chesterfield and securing a state title in Virginia Beach.
Prior to the world competition, she was flown to Indianapolis in October, where the Special Olympics USA coaching staff helped her polish her game.
"Bocce is a sport where age doesn't make much difference," said U.S. bocce Coach Barb Rolf. "Mary's our oldest athlete, but you'd never guess she was that old. She sure doesn't show it. She plays very well."
At home, Mrs. Davis practices bocce each Sunday with a host of friends.
"We go to church" at Chester United Methodist. "We go to eat. Then we go to a school to play bocce," she said.
The Davises also reside in an apartment complex in Western Chesterfield County that has its own bocce court.
"I have my own bocce balls," she noted.
Mrs. Davis is quick to credit her success to her counselor, Keisha Walker, who provides most of her transportation, along with everyone associated with Special Olympics who made the once-in-a-lifetime experience possible.
According to Rick Jeffrey, president of Special Olympics Virginia, the cost per athlete for the cross-country, 10-day trip was about $5,000.
"We raised all of it through different kinds of fundraisers," Mr. Jeffrey said. "Some came from foundations, private donors and the various law enforcement agencies have been so good to help."
Mrs. Davis is grateful and appreciative. She says it over and over with kind words, but mostly with a twinkle in her brown eyes and a genuine smile.
Richmond's newest "golden girl" never stops smiling, even if her feet are killing her.