Tabloid-style drama grips Richmond school officials
Jeremy Lazarus | 8/20/2015, 9:37 a.m. | Updated on 8/20/2015, 10:45 p.m.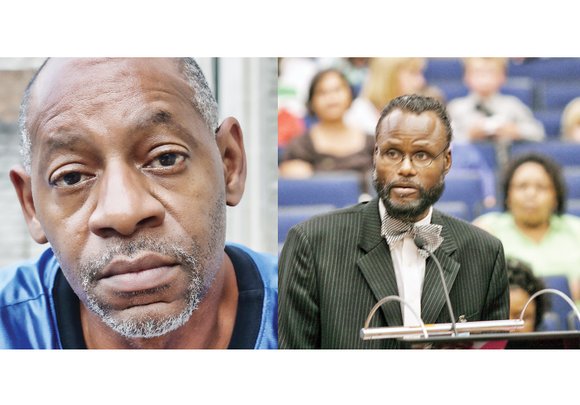 David Hudson has long been considered one of the best elementary school principals in Richmond.
He has received praise from parents and plaudits from teachers and enjoyed the regard of students during his 11-year career at Linwood Holton Elementary School.

Among other honors, Mr. Hudson was awarded a $15,000 REB Award for Distinguished Educational Leadership in 2010 that allowed him to develop an outdoor garden and environmental studies space at the school on Laburnum Avenue.
Evidence of the esteem in which he is held came in June when the School Board quietly voted 6-3 to give him a raise of more than $12,000 to keep him from accepting a principal position in Henrico County.
That's why a tabloid-style drama now surrounding Mr. Hudson has created such a buzz among teachers and staff in the school system.
The drama involves the removal and subsequent demotion of a former assistant principal at Linwood Holton and includes claims of sexual harassment and possible forgery as well as an accusation that Superintendent Dana T. Bedden and three members of the School Board, who apparently have children attending the school, rallied to protect Mr. Hudson.
The drama seeping from behind closed doors involves Mr. Hudson and Fernando J. Lightfoot, a 15-year Richmond Public Schools educator and school counselor, whom Mr. Hudson recruited to be assistant principal at Holton in the summer of 2014.
Mr. Lightfoot, now demoted to a school counselor and assigned to another school, has taken the drama to the Equal Employment Opportunity Commission.
According to the EEOC complaint he filed July 30, Mr. Lightfoot alleges that Mr. Hudson sexually harassed him and then arranged to get rid of him when he did not respond to the overtures.
The EEOC review could take six months or more. The agency can initiate mediation or issue a letter allowing the complaining party to take the case to court.
Former City Councilman Sa'ad El-Amin, who now operates Employment Rights Advocates and represents employees in administrative hearings and EEOC filings, prepared Mr. Lightfoot's complaint to the EEOC and also distributed the complaint to School Board members, Richmond's commonwealth's attorney and the Virginia attorney general, among others.
Mr. Hudson responded to the complaint through his attorney, Thomas Wolf of LeClair Ryan, who stated in an email to the Free Press: "There is no shortage of good lawyers in Richmond who will represent … anyone who has a remotely legitimate employment claim. Why do you think that rather than be represented by one of those, (Mr. Lightfoot) is represented by a convicted felon (Mr. El-Amin) who has been disbarred and is not even allowed to appear in court? 
"(Mr. Lightfoot and Mr. El-Amin) are defaming a public servant who is one of the shining lights among principals in a very challenging school system," Mr. Wolf continued. "It would be disgraceful if your newspaper makes itself an instrument in this attempted character assassination."
In an investigative report on the sexual harassment claim that two members of the Sands Anderson law firm prepared for Dr. Bedden and the School Board, Mr. Hudson denied the allegations. The report, a copy of which was provided to the Free Press along with other documents in the case, found insufficient evidence to support Mr. Lightfoot's sexual harassment allegation. The Sands Anderson investigation did not include the forgery claim. Mr. Lightfoot's EEOC complaint challenges the report as inadequate.