Promoter David 'Big Daddy' Cooper, 81, first to bring Jackson 5 to Richmond
8/28/2015, 12:03 p.m. | Updated on 8/28/2015, 12:03 p.m.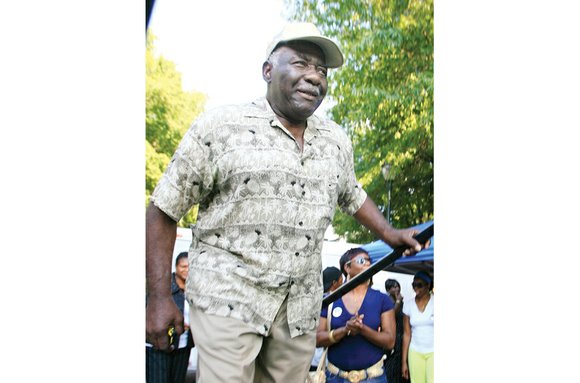 David Junior "Big Daddy" Cooper had multiple careers in Richmond — from concert promoter to private investigator to truck driver and concrete layer.
His multifaceted life is being remembered following his death Thursday, Aug. 6, 2015, at a Richmond hospital. He was 81.
During his heyday as a promoter, Mr. Cooper was the first to bring The Jackson 5 to Richmond, creating a memorable show in 1971.
He also showcased such big name artists as James Brown, Al Green, Marvin Gaye, Jackie Wilson and The Manhattans in Richmond and other cities in partnership with Atlanta promoter Henry Wynn, said Bobby R. Gamble, a longtime friend of Mr. Cooper and his right-hand man in the concert operation.
Mr. Cooper, who also was aided by his late wife, Ethel, also was a concert promoter for such gospel stars as James Cleveland, Shirley Caesar and The Brooklyn All-Stars, Mr. Gamble said.
At one time, Mr. Cooper and a partner, James Anderson, owned two music stores, Hull Street Music and the Cary Street Music Center.
Given the ups and downs of the music business, Mr. Cooper also established a concrete business to install footings on buildings, lay slabs or do other concrete work. Earlier, he was an independent truck driver and, for a brief period, operated a private investigation business, family and friends said.
As the father of 11 children, he was always on the lookout for business opportunities.
"He didn't want to work for anyone so he got into business for himself," said Mr. Gamble, who said Mr. Cooper was like a brother to him. "You could trust him. When he gave his word, he meant it. You could always count on him to do what he said he would."
Born in Lake City, S.C., Mr. Cooper came to Richmond in the 1950s. He got a job as a truck driver and then as a security officer before opening the concrete business, Mr. Gamble said. Mr. Cooper sold the company last year, Mr. Gamble said.
However, Mr. Cooper's first love was putting on shows for the public. "Promoting was his heart," Mr. Gamble said.
Along with staging shows and selling records, Mr. Cooper also managed numerous acts and produced recordings for them, Mr. Gamble said.

Mr. Cooper also produced Christian plays with his wife, including "Your Arm's Too Short to Box with God," and brought Broadway musicals to Richmond, his family said.
In his free time, Mr. Cooper was a 32nd degree Prince Hall Mason, a past worshipful master, or president, of Jonathan Lodge No. 112, F&AM, in Richmond and a member of Mocha Temple Shrine in Jackson Ward.
Mr. Cooper succumbed to longtime health problems.
Final tributes were paid to him on Wednesday, Aug. 12, at St. Paul's Baptist Church in Henrico County.
His survivors include seven daughters, four sons, three brothers, a sister and 14 grandchildren.