VSU reigns over VUU
12/11/2015, 6:23 a.m.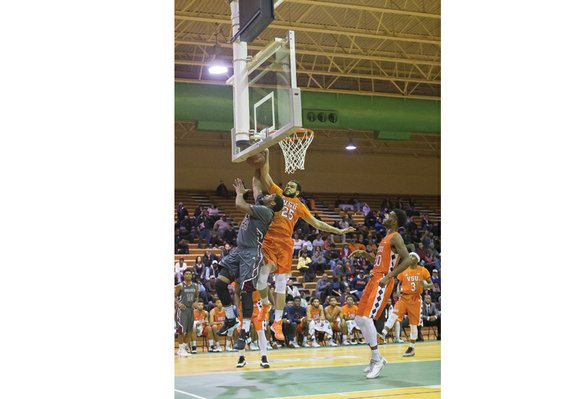 In the longtime backyard basketball rivalry between Virginia Union and Virginia State universities, two thoughts emerge:
Virginia Union owns the past.
Virginia State seems to have seized the upper hand for the present and beyond.
Trojans Coach Lonnie Blow underlined that latter point with a 77-56 thrashing of the Panthers in the "Battle of I-95 South" before some 3,000 witnesses last Sunday at the Arthur Ashe Athletic Center in Richmond.
VSU led by as many as 27 points (77-50) and dominated the rebounding (42-27) while showcasing a brilliant freshman, Walter Williams, and well-traveled senior, Javon Moore.
More on Williams and Moore later.
First, about that rivalry: Calvin Coolidge was in the White House in 1923 when VUU and VSU first got together to shoot some hoops. (Warren G. Harding was president in 1923 until he died on Aug. 2)
For the most part, in the past the Panthers have ruled.
Consider: VSU has won two CIAA titles (1947 and 1988) while VUU has taken 17 (13 since 1979).
VUU has three NCAA crowns and has produced seven NBA players. VSU has zero NCAA titles or NBA alumni.
Between 2001 and 2013, VUU beat VSU 23 straight times in a lopsided spat that resembled the Globetrotters versus the Washington Generals.
Let's fast forward to today.
The Trojans are on a three-game winning streak against VUU and giddy about a future that includes the soon-to-be grand opening of the VSU Multipurpose Center on the Ettrick campus. The sparkling facility will become the jewel of the CIAA.
"I can't wait," said Blow. "The new building will mean so much in regards to recruiting. Already we're showing kids our video 'virtual tour.' But nothing compares to walking in and seeing for yourself."
The Trojans will move from Daniel Gymnasium, their hoops playpen since 1965, into the Multipurpose Center in early January.
Meanwhile, VUU has called Barco-Stevens Hall home since 1947. The "Co," as it's called, originally was part of Belgium's exhibition at the 1939 World's Fair in New York.
Despite renovations, it's hard hiding the "wrinkles." VUU officials are hopeful of moving several more games — against Livingstone College and Shaw, Bowie State and Lincoln universities — in January and February into the spacious Ashe Center, located 1.9 miles from the Lombardy Street campus.
The Sunday, Dec. 6, game at the Ashe Center officially was VUU's home game, but it was the "visitors" who toted away the trophy presented by WCLM radio personality Reggie Howell.
Williams, the Trojans' springy 6-foot-4 newcomer from State 5A champion Henrico High School, dazzled with an artsy repertoire that includes a bit of everything.
While dunks have become commonplace, Williams does so with the ease most of us might toss a wad of paper into a trashcan.
On top of that, he's a three-point marksman, striking the bullseye for three outside the arc against VUU.
Williams arrived in Ettrick with acclaim; Moore, though, snuck in under the radar.
The Fairfax native played high school ball at National Christian Academy in Fort Washington, Md., before embarking on a winding college career at San Jacinto College in Texas.