Freedom Classic comes to Coliseum Sunday
Fred Jeter | 1/15/2016, 1:52 p.m.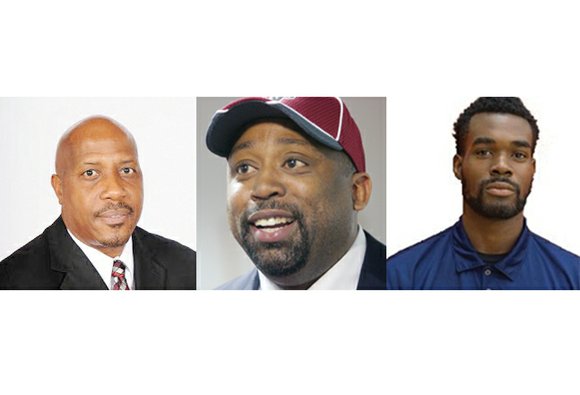 It's fitting that someone from historic Yorktown has helped spark a basketball revolution at Virginia State University.
The reasons are numerous why VSU has vaulted from the bottom to the top of the CIAA standings. You can start the list with versatile 6-foot-8 junior Elijah R. Moore, aka "ERM," from Yorktown's Grafton High School.
Revolutionary War historians recognize Yorktown as the site where British troops under Lord Cornwallis surrendered in 1781 to Gen. George Washington, ultimately ending the war for independence.
Basketball buffs know Yorktown as a hotbed for hoops talent. Moore earned All-State honors at Grafton, twice leading the team to the State 4A final at the Siegel Center in Richmond.
The long-stemmed Trojan looms as a pivotal figure when VSU meets Virginia Union University in the Freedom Classic Sunday, Jan. 17, at the Richmond Coliseum.
"It's been fun to watch him grow," said VSU Coach Lonnie Blow. "He arrived here quiet and unassuming and he's developed into a very good player."
Coach Blow was hired as VSU's basketball coach Aug. 1, 2013. He signed Moore prior to Aug. 17, when fall semester classes began in Ettrick. Moore's emergence has eased the loss of the team's top three scorers and rebounders from last year's club that had an 18-9 record.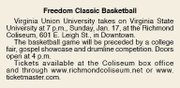 Moore leads VSU in scoring (14.5 point average per game), field goal percentage (50.3) and blocked shots (11) and is second in rebounding (5.2).
He can't be ignored on the perimeter. Despite often being the tallest man on the floor, he has hit 18 of 37 three-pointers (49 percent).
"We can play Elijah at several positions. He presents matchup problems for most teams," said Coach Blow.
After winning seven of the last eight games, the Trojans opened the week 10-3 overall and 5-0 in the conference in Coach Blow's third season in Ettrick.
The Trojans beat VUU 77-56 on Dec. 6 at the Arthur Ashe Jr. Athletic Center in Richmond. VSU has won four straight over the once-dominant Panthers during the past three seasons.
Under first-year Coach Jay Butler, VUU began the week 6-9 overall and 0-4 in the CIAA after an agonizing two-point home losses to Shaw University on Jan. 7 and Fayetteville State University on Jan. 9.
VUU boasts one of the CIAA's elite talents, 6-foot-3 Ray Anderson. The junior from Delaware averages 21.3 points per game while hitting 53 percent from the field and 72 percent at the foul line.
Anderson's help includes junior Tavon Mealy (13.3 points, 6.6 rebounds) and sophomore Kory Cooley (11.4 points), a 6-foot-2 transfer from the University of District Columbia. Cooley led UDC in scoring as a freshman.
Coach Butler was the longtime UDC women's coach before moving to VUU to coach the men.
Meanwhile, VSU has come a long way under Coach Blow. The Trojans lost 33 of 41 games at one stretch, from 2009 through 2011, under Coach George White. Even worse, VSU lost 23 straight games to VUU at one stretch prior to 2012.
Since the start of the Freedom Classic in 1996, VUU had won every year but 2002 until encountering a three-year losing skid from 2013 through 2015.
VSU has won the CIAA tournament only twice — 1947 and 1988.  Since VSU won its last title, 11 different schools have been crowned champ.
The Trojans are overdue for success. Moore, for one, doesn't want VSU basketball victory to seem like American history.