VUU takes game from VSU by 2 to claim Freedom Classic win
1/22/2016, 7:18 a.m.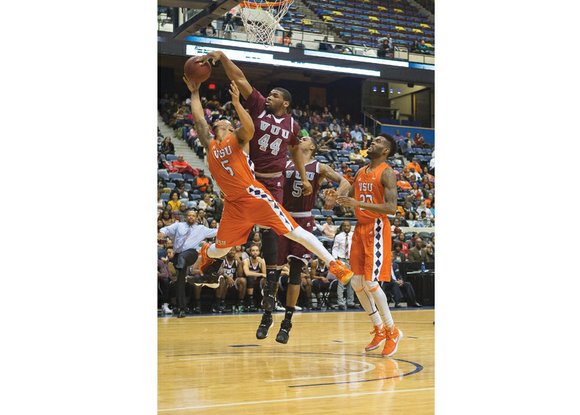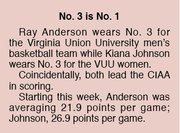 Long-limbed and athletic, Ray Anderson is gifted with excellent speed, quickness and jumping ability.
Yet he does some of his best work standing still.
In helping Virginia Union University win the Freedom Classic 70-68 over Virginia State University last Sunday at the Richmond Coliseum, Anderson left the Trojans in a "foul" mood.
Anderson's 32 points — including 12 for 16 at the foul line — was the difference as VUU improved to 9-9 overall and 2-4 in the CIAA.
It was the Panthers' third straight win and ended a three-game losing streak over two seasons to VSU.
"It feels good. It's the first time I've beat State since my freshman year," said Anderson.
In seeing the VSU Trojans fall to 11-4 overall and 6-1 in the CIAA, here's VSU Coach Lonnie Blow's assessment:
"Anderson is a great player. And when he gets it going, he's capable of having a big night. But we can't be putting him on the line 16 times. You've got to make him earn it."
But saying it — not fouling Anderson — and doing it are two different tasks.
Anderson leads the CIAA in scoring average (21.9 points) and is fourth in the 12-team league in free throws attempted (118).
The lithe, lean 6-foot-3 junior from Wilmington, Del., has taken more than twice as many free throws as any other Panther. It's his uncanny athleticism, forcing defenders to reach and grab, that earns him so many tickets to the free throw line, where he hits 75 percent.
"I feel I can always beat my man off the dribble," Anderson said. "That's what I'd rather do."
Wearing jersey No. 3, Anderson rarely settles for three-pointers. He is just 5-for-31 behind the arc for the season.
Anderson averaged about 15 points as both a freshman under Coach Luqman Jaaber and as a sophomore under Coach Tony Sheals.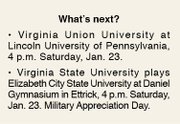 He's on course to enter the conversation about VUU's all-time performers.
First-year Coach Jay Butler says, "Ray has one of the best pull-up jumpers I've seen."
Being cautious, Butler adds, "To be considered with the great players to come through here, he needs to be a better defensive player. You've got to play both ends of the floor."
Anderson made a defensive statement on the final play of the Freedom Classic game against VSU. After hitting one free throw to make it 70-68, with 17 seconds left, VSU charged down the floor with a chance to tie or win.
Foiling those plans, Anderson slapped the ball away from a VSU guard and Danny McElroy snagged the loose leather to secure the win.
McElroy, who had eight points and a team-high nine rebounds, is among numerous transfers to the Panthers. A native of Cincinnati, McElroy came to VUU from Bowling Green University in Ohio.
Another take-notice newcomer is guard Timmone Whatley, a transfer from Harcum College in Pennsylvania, who became eligible to play during spring semester. Whatley had six points, six rebounds and, according to Butler, "ran the show."
John Mitchell, a 6-foot-9, 225-pound transfer from ASA College in New York City, adds an imposing presence in the paint. Mitchell had three points, four rebounds and two blocked shots in just 11 minutes.
VSU guard Kevin Williams bunched eight of his 20 points into the game's final 2 minutes. "I was on attack mode," he said. Williams added six rebounds, three assists and two steals.
Elijah Moore, a 6-foot-8 junior, added 19 points and nine rebounds. Like Anderson, Moore is a candidate for CIAA Player of the Year.
VSU outrebounded VUU 50-38, but the Trojans suffered 21 turnovers against the Panthers' pressure.
VUU turned its defense into offense with 15 steals, including four each by McElroy and Ke'Andre Gibson.