VSU beats VUU in Freedom Classic
1/20/2017, 8:25 p.m.
It seems fitting that in the 22nd Annual Freedom Classic, Trey Brown wiggled free from second fiddle status.
The 6-foot-3 Virginia State University back-up junior guard began the Sunday, Jan. 15, Freedom Classic as the Trojans' sixth-leading scorer, just another back-up sound in the orchestra.
It didn't take him long to turn up his volume loud and clear in the Trojans' 74-59 victory over Virginia Union University at the Richmond Coliseum in Downtown.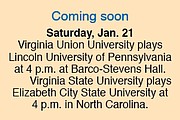 "I just try and fit in wherever I can, just to help out," Brown said after netting 16 points — 10 in the first half — on six for six shooting from the field, including two for two from beyond the arc.
And all that in just 15 minutes of floor time.
"Trey is a real good player who gave us an extra lift tonight," VSU Coach Lonnie Blow Jr. said following the game.
Coach Blow began recruiting Brown when he was a student at Louisburg College, a private, two-year college in North Carolina.
It's a good thing. Brown's 3-ball swish at 12:02 in the second half provided VSU with a commanding 50-36 lead, and the Trojans were en route to a seventh straight win.
Avenging a loss to VUU in last year's Freedom Classic, the Trojans are now 13-3 overall and 5-1 in the CIAA.
After five straight wins, VUU falls to 13-5 overall and 5-1 in the CIAA.
Brown might be nicknamed "Been Around Brown." Here's his itinerary:
From Hampton, Brown helped Menchville High School to the Peninsula District title in 2012. From there, he spent a year at Fork Union Military Academy in Virginia then a season at Louisburg College. He added one semester at North Carolina A&T State University before sitting out all of last season and now playing for VSU.
The Freedom Classic was his orange and blue coming out party.
"It was a big game for me playing here" in the Coliseum, he said. "It's a big rivalry and I was fired up for it."
Brown leads VSU in 3-point accuracy (45 percent), but insists it's "only a coincidence" his name — Trey — reflects his long-distance touch.  
Brown wasn't alone among VSU heroes.
Kevin Williams' 20 points included two spine-tingling dunks — one off an alley-oop lob from Walter Williams in traffic.
It's not often you see a 5-foot-10 man like Kevin Williams soar so high, especially with a man on him. He bounds off the wood like the floor is a trampoline.
Powerful Richard Granberry, battling cramps, had 11 points and 11 rebounds. Ball-handler Waymond Wright combated VUU's pressure defense with seven assists and just one turnover in 34 minutes.
The assertive 5-foot-11 Wright, a junior from Raleigh sporting a shaved head, beard and trademark headband, was unflappable as VUU turned up the defensive heat in late going.
VSU was solid defensively against VUU's Ray Anderson. The CIAA's leading scorer finished with 14 points, but had only five points at intermission, with the Trojans up 33-23.
Brown was among the Trojans taking a turn checking the quicksilver Anderson, who began the night averaging 18.5 points.