VSU beats VUU in Freedom Classic — again
Fred Jeter | 1/19/2018, 6:25 p.m.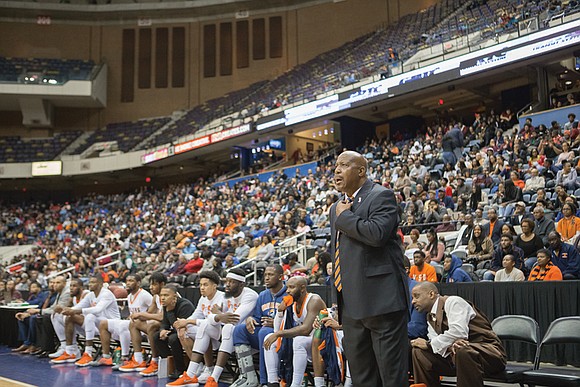 Trey Brown is a major reason why Virginia State University is enjoying perhaps its best basketball season in program history.
The senior's talents were fully displayed Sunday, Jan. 14, during VSU's 82-72 victory over Virginia Union University in the 23rd Freedom Classic Festival at the Richmond Coliseum.
"I love big venues," Brown said after the team's big win. "I wish we could play here more often."
A 6-foot-3 guard from Hampton who transferred to VSU from North Carolina A&T State University, Brown did everything for the Trojans except play the cymbals during the marching band halftime show.
Consider Brown's checklist of achievements in helping VSU improve to 15-1 overall and 5-1 in the CIAA:
Points: Brown led way with 25, including 13 points in the first half when VSU was racing to a 42-21 lead.
3-pointers: He nailed five of 10.
Free throws: He was six for six.
Rebounds: Five.
Assists: Four.
Steals: Three.
Minutes played: The max, 40. "It's hard taking him out," VSU Coach Lonnie Blow later told the media.
Drama: After VUU pulled to 69-62 at 1:31, Brown snuffed the Panthers' rally with a 3-point swisher. Moments later, he stole a pass to seal the deal.
This marks the second year in row Brown rose to the occasion in the Freedom Classic, an event honoring the legacy of Dr. Martin Luther King Jr.
Last season, Brown led VSU with 16 points (six-for-six from the field) in a 74-59 win for the Trojans.
Brown, who averages 11 points and six rebounds, has stepped up since Brandon Holley, VSU's top long-range shooter, was injured.
"Until Brandon comes back, I'll be getting more shots," said Brown. Holley was 39-for-79 (49 percent) from the distance prior to being sidelined.
Polls: As of Jan. 9, VSU was ranked 13th nationally in the NCAA Division II. The Trojans have won eight straight games since a Dec. 14 loss at St. Augustine's University. Right now, at least, VSU would seem a solid bet for an NCAA at-large tournament slot should the team fail to win an automatic bid from the CIAA Tournament in Charlotte, N.C.  
Record book: VSU's record for most wins is 24, set in 2015-16. VSU's best ever winning percentage was in 1937 – 13-2.
Depth: The Trojans have had seven different leading scorers, including Brown, on four occasions. VSU rolled over VUU despite top scorer Richard Grandberry (13.7 points average) settling for two points.
Ball-handling: The smallish backcourt combo of Waymond Wright and Philip Owens provide a cool demeanor against a pressure defense.
Future: A forceful up-and-comer is 6-foot-7 Andrew Corum. The sophomore from Leesburg tallied nine points and eight rebounds against VUU.
VUU, in falling to a 9-9 record overall and 4-2 in the CIAA, deserves much credit for not folding following a dismal first half.
"I challenged them," said VUU Coach Jay Butler.
The Panthers trailed by as much as 47-21 before dialing up the heat with a frenetic full-floor defense and relentlessly attacking the basket.
VUU wound up hitting 31 of 42 foul shots, all but eight of those attempts following intermission. Three Trojans fouled out and two more had four fouls.
Panthers senior Jimmy Paige had 21 points and 12 rebounds and William Jenkins and Todd Hughes added 16 points each.
Quicksilver point guard Jemal Smith dished five assists and led the "havoc-style" second half comeback before fouling out.
The rivalry rematch will be Wednesday, Feb. 7, when VUU travels to Ettrick.
"We look forward to going down to Virginia State and playing (for the first time) in the VSU Multi-Purpose Center," said Coach Butler.
Only one problem: Old nemesis Trey Brown will be waiting.