VUU Lady Panthers, VSU Trojans favored in CIAA Tournament
3/1/2018, 2:16 a.m.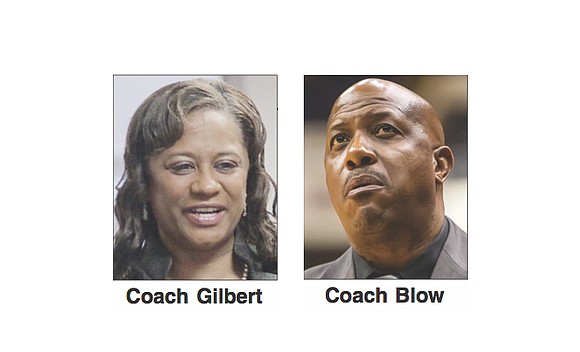 Virginia State University's men and Virginia Union University's women are clear favorites on paper at this week's CIAA Tournament in Charlotte, N.C.
Now the Trojans' men and the Lady Panthers must prove their lofty status where it counts most — on the hardwood.
The annual CIAA athletic and cultural extravaganza, dating to 1946, culminates with the finals on Saturday at the Spectrum Center, with the women's championship game at 1 p.m. and the men's finale at 7 p.m.
The tournament victors will advance automatically to the NCAA Division II Atlantic Regionals in two weeks.
On Tuesday, VSU Coach Lonnie Blow Jr. and VUU Lady Panthers Coach AnnMarie Gilbert were named CIAA men's and women's coaches of the year.
Under Coach Blow, VSU is the No. 1 seed from the CIAA Northern Division, with a 23-3 overall record, 13-3 in the CIAA and a 9-1 division record.
The Trojans are ranked second in the NCAA Atlantic Region, behind only West Liberty University in West Virginia, and 16th nationally in Division II. All three of the team's losses came with key players injured.
VSU has an at-large NCAA bid locked up regardless of its fortunes in Charlotte.
The defensive-minded Trojans looked vulnerable, however, in their regular season finale on Saturday, Feb. 24. They held on for a jittery 55-53 win over visiting Lincoln University before 5,000-plus fans at the VSU Multi-Purpose Center in Ettrick.
Center Richard Granberry is VSU's lone All-CIAA pick. The 6-foot-8 senior from Chester, Pa., by way of Neosho Community College in Kansas, is the Trojans' go-to man inside.
Granberry averages 11 points and eight rebounds in a balanced offense that includes Trey Brown (10.3 point average), Cyonte Melvin (9.9 point average), Walter Williams (9.8 point average) and Brandon Holley (9.8 point average).
From Richmond's George Wythe High School, Holley is VSU's top 3-point threat, having hit 51 of 109 shots for 47 percent.
VSU has won the CIAA Tournament just three times previously — in 1947, 1988 and 2016.
The VUU Lady Panthers, under the direction of third-year Coach Gilbert, is the defending NCAA Division II runner ups. The Lady Panthers finished 25-2 overall and 15-1 in the CIAA following a 58-56 win Saturday, Feb. 24, over Chowan University.
The Lady Panthers are ranked fourth in the NCAA national poll.
The Lady Panthers' Alexis Johnson was named CIAA Player of the Year and Defensive Player of the Year on Tuesday. She is joined on the All-CIAA team by fellow 6-foot senior Rachael Pecota.
Johnson, averaging 17 points and nine rebounds while leading the CIAA in blocked shots, missed the final two games with what a school spokesman termed a "minor injury." She is expected to play in the Charlotte tournament.
Selected to the second All-CIAA squad was freshman Shareka McNeill, who also was named CIAA Rookie of the Year. She was joined on the All-Rookie team by her twin sister, Shameka.
The McNeill twins won't need a GPS in Charlotte. They starred at Harding High School, just a few miles from the Spectrum Center.
Like the VSU men, VUU's women are assured an NCAA at-large berth should they slip during the CIAA Tournament.
VUU's men's team closed their regular season at 14-14 overall and 9-7 in the CIAA, with a convincing 90-51 win over visiting Chowan University on Saturday, Feb. 24, on Senior Night.
The Panthers might have a revenge motive. They were shut out for first All-CIAA honors, although Jordan Peebles, a freshman from Emporia, was selected to the All-Rookie team.
VUU, long the conference's dominant program, has not won a CIAA championship since 2006 and hasn't been to the finals since 2007.
The CIAA, founded in 1912 as the nation's first historically black athletic conference, introduced its tournament in 1946 at Turner's Arena in Washington.
After many logistical moves, including twice to the Richmond Coliseum, the CIAA Tournament seems to have found a permanent home in Charlotte, which serves as the conference headquarters.
The Spectrum Center, seating 19,077 fans, is home of the NBA Charlotte Hornets. All action moves to the Spectrum Center, formerly Time Warner Cable Arena, following games earlier in week that were played next door at the smaller Bojangles' Coliseum.
The CIAA Tournament is much more than just a week of jump shots and rebounds. More than 100,000 people are expected to converge on the Queen City this week, resulting in an estimated $55 million in revenue.
A multitude of musical and cultural events are included on the tournament schedule. Many loyal CIAA alumni and fans attend the event every year.