VUU returns from CIAA in trail of tears
Fred Jeter | 3/4/2017, 10:30 a.m.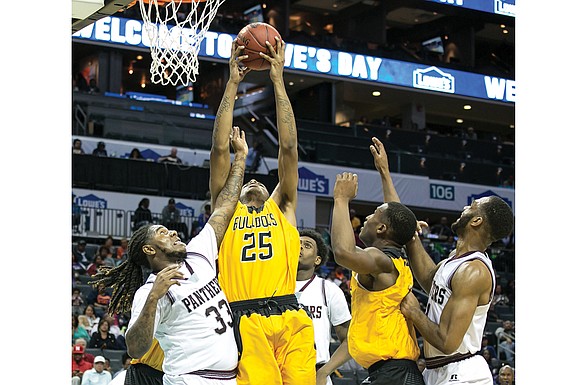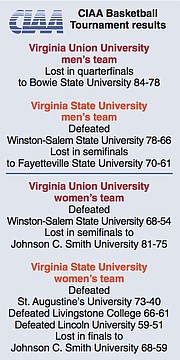 Virginia Union University rode a wave of well-earned optimism to the CIAA Basketball Tournament in Charlotte, N.C.
Its return to Richmond was amid a trail of tears.
A stunning 84-78 quarterfinal upset loss to Bowie State University spoiled the party for No. 1 seeded Northern Division winner VUU.
Talk about reversals. That's the same Bowie State team (fourth seed in the CIAA Northern Division) that VUU routed 100-68 on Feb. 8.
With the Panthers' CIAA goals squashed, Coach Jay Butler's team must play the waiting game to see if the season will continue or be put quietly to bed.
NCAA Division II Tournament selections will be announced Sunday, March 5. As of last week, VUU was ranked seventh in the Atlantic Region – but that was before Charlotte.
Clearly, the Panthers are atop the uncomfortable bubble as far as making the eight-school regional tournament set for March 11, 12 and 14, likely in West Virginia.
Much will depend on the results this weekend from Division II conference playoffs involving West Virginia, Pennsylvania and Maryland schools.
Only CIAA champ Bowie State University, which won four games in four days at the Spectrum Center in Charlotte, is assured of moving on. Bowie State, now 16-14, defeated host Johnson C. Smith University, VUU, Livingstone College and Fayetteville State University in order to claim the top prize. 
Virginia State University, the 2016 CIAA champion, remains among the other teams wishing and hoping for an NCAA invite. VSU was ninth in the most recent Atlantic Region poll.
In Charlotte, Coach Lonnie Blow's Trojans defeated Winston-Salem State University 78-66, but lost 70-61 in the semifinals to Fayetteville State University.
Both VUU and VSU have rested their NCAA cases with strong résumés. The Panthers are 22-7 and have won 14 of the last 17 games in Coach Butler's second season. In Coach Blow's fourth season in Ettrick, the Trojans are 22-8.
The Charlotte trip started well for both VUU and VSU. At the CIAA Tipoff Awards Banquet in Charlotte on Wednesday, Feb. 22, the Trojans' Elijah Moore, Richard Granberry and Kevin Williams were all named All-CIAA.
That same day, VUU's Ray Anderson was named CIAA Player of the Year and Coach Butler was named Coach of the Year.
Little did anyone suspect that the individual honors soon would be followed by "disappointment of the year."