Glory, dreams and nightmares
Area teams make early exits in CIAA Tournament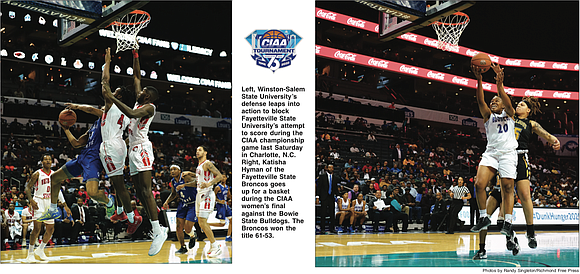 Winston-Salem State wins CIAA crown in final 4 minutes
Winston-Salem State University will forever cherish memories of the final CIAA Tournament in Charlotte, N.C., before the event moves in 2021 to Baltimore.
Meanwhile, Virginia Union and Virginia State universities may be inclined to burn their 2020 scrapbooks.
First, about the champions:
Winston-Salem State Coach Cleo Hill Jr.'s Rams defeated Fayetteville State University 63-62, in the final last Saturday before about 8,000 fans at the Spectrum Center and a national TV audience.
Tournament MVP Robert Colon hit three free throws with 4.6 seconds left, sending the Rams' "Red Sea" cheering section into a frenzy.
The team received pregame inspiration from iconic superstar Earl "The Pearl" Monroe, who led the Rams to 1966 CIAA and NCAA championships.
Monroe, now 75, called the locker room from a hospital in New York City where he is being treated. He had planned to be in Charlotte, but was unable to attend because of health issues.
Coming from 11-points behind in the final 4:16, the Rams claimed their 12th CIAA title and first since 2012. Coach Hill also won a CIAA crown in 2011
while at Shaw University. The name "Hill" is synonymous with Rams greatness. Cleo Hill Sr. helped Winston-Salem to titles in 1960 and 1961 and became the first HBCU athlete selected in round one of the NBA draft by the St. Louis Hawks. This year was the 75th an- niversary of the CIAA Tour- nament. The event was born in 1946 at Turner's Arena in Washington, D.C.
While the Rams celebrated, VUU and VSU had to ponder what went wrong.
The Panthers, seeded No. 2 in the Northern Division, lost 72-67 in last Thursday's quarterfinals to Fayetteville State University.
It was a case of too much Will Brown for the Broncos and, unfortunately, not enough of Terrell Leach for the VUU Panthers, who finish 18-11.
Brown, a 7-foot senior, played the game of his life, scoring 22 points, grabbing 17 rebounds, blocking three shots and hitting 12 of 14 free throws.
"Brown played like a pro," said VUU Coach Jay Butler in a postgame news conference.
The Panthers likely never saw it coming. In a 61-58 VUU win over Fayetteville State on Dec. 21, the same Will Brown had two points and four rebounds.
Meanwhile, the normally brilliant Terrell Leach couldn't find the range in his college swan song.
The All-CIAA senior was 5-for-22 from the floor, includ- ing 0-for-7 behind the arc. His 14 points were 10 below his average.
Still, Leach finished with 1,052 career points for VUU in just 47 games after transferring from Winston-Salem State.
With high hopes, VUU had won seven straight games heading to Charlotte. Raemaad Wright had 19 points and 10 rebounds as the Panthers' season closed.
Virginia State's final trip to the Queen City was just as short. Seeded No. 1 in the Northern Division, Coach Lonnie Blow's defending champion Trojans were surprise 63-58 quarterfinal losers to Claflin University on Feb. 26.
There was a bright spot in the clouds, however. In defeat, VSU's Walter Williams, a senior from Henrico High School, netted his 1,000th career point.