Livingstone wins CIAA men's championship
Fred Jeter | 3/5/2015, 4:20 a.m.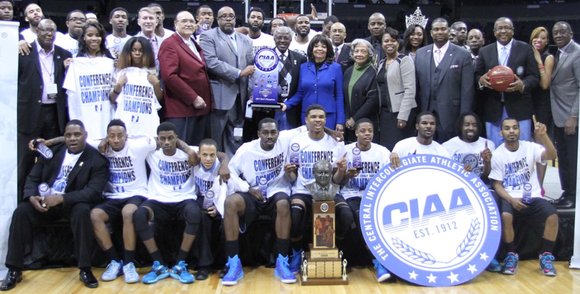 For decades, Livingstone College's Blue Bears were little more than commoners in CIAA basketball.
Today, they're kings.
In fact, the Blue Bears now have a second crown to wear atop their first one.
The jump shooters from Salisbury, N.C., are back-to-back tournament champs after blitzing Winston-Salem State University 106-91 in last Saturday's CIAA title game at Charlotte's Time Warner Cable Arena.
"It's a great day for Livingstone basketball," Coach James Stinson told the media afterward. "I feel this experience will help our players become great young men."
Ty Newman, a 6-foot-4 junior transfer student from the University of Maryland- Eastern Shore, netted 13 points in the final game and was named the CIAA Tournament Most Valuable Player.
Fellow transfer students to Livingstone Eric Mayo (from Winston-Salem State University) and Eric Dubose (from Saint Paul's College) made the CIAA All-Tournament team. Transfers Daryl Traynham (from Morgan State University) had 23 points coming off the bench and 6-foot- 9 Hakeem Jackson (from Iona College) had 10 points and seven rebounds.
Livingstone, the CIAA's smallest school with
1,200 students, has flipped the script, transforming the team to winners.
From the inception of the CIAA Tournament in 1946 until 2011, the Blue Bears never had advanced to the final.
Furthermore, the only occasion on which they reached the semifinals was in 1998. Many years, the team didn't even qualify for the tournament when it was an eight-school affair.
Now they have consecutive titles and a third- straight NCAA bid. Much credit goes to Coach Stinson, who arrived from tiny, 120-student Barber-Scotia College.
During Coach Stinson's last two years at the HBCU in Concord, N.C., Barber-Scotia was 52-20 and made the National Association of Intercollegiate Athletics' Elite 8 twice.
Kerplunk: Virginia State University's lopsided quarterfinal loss to Fayetteville State University on Feb. 26 should be filed under the "hard to believe" department.
Who could have dreamed the final score would be Broncos 93, VSU 72?
By contrast, on Jan. 3 VSU rolled over Fayetteville State 75-61.
Now get this: For the season, VSU held foes to the CIAA-best 38 percent shooting. In Charlotte, Fayetteville State shot 64 percent (33- 52) for the game, including 69 percent (20-29) during the first half.
The Broncos were 82 percent (9-11) from behind the 3-point arc during the first half — an unimaginable 27 points off 11 tries.
It was a glum finish to an overall solid season for second-year Coach Lonnie Blow, whose team finished 18-8 and as the No. 2 seed in the Northern Division.
Now a rebuilding task begins.
The Trojans lose All-CIAA players Lamar Kearse and Tyrece Little, along with center Alphonso Leary, ball-handler Xavier Parham and reserve player Larry Savage.
Long ride back: It takes the Virginia Union University bus about five hours to roll from Richmond to Charlotte.
It must feel at least twice that long coming back.
The Panthers' play-in loss to Shaw University 77-70 on Feb. 24 marked the sixth year in a row VUU has failed to win a game in the Queen City.